Zhik offers a quick release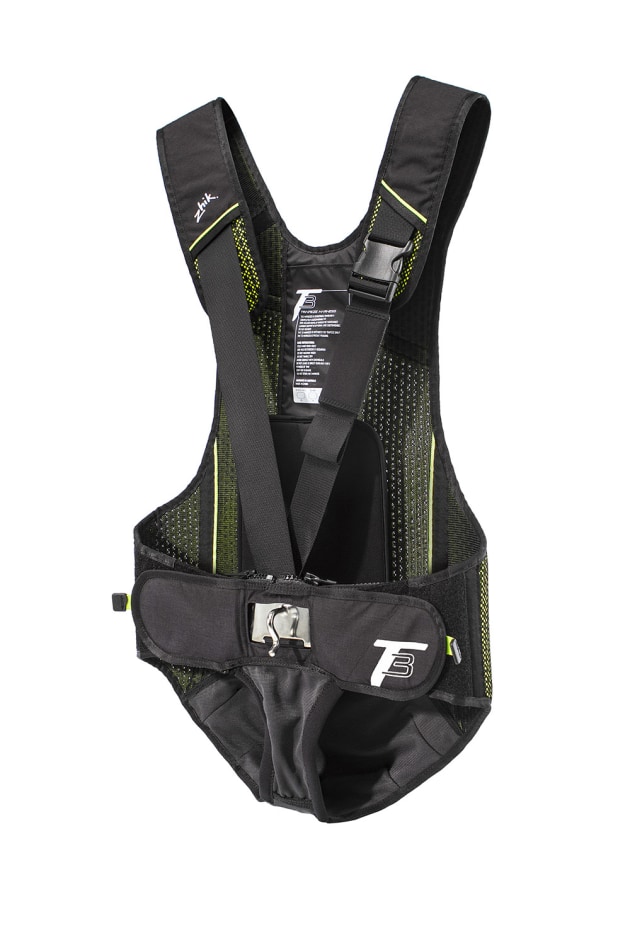 New dinghy harness allows sailors to escape in seconds.
Australian apparel manufacturer Zhik is introducing a dinghy harness, the T3 Trapeze Harness, which uses an enhanced quick release system to enables sailors to escape in seconds if necessary.
The harness uses a new patent-pending Velcro system which in the event of an emergency situation, such as a capsize, can quickly release the sailor from the harness. The double Velcro waist closure system has two high-vis ripcord grab tabs which, when pulled instantly breaks the hold of the Velcro. Similar to pulling a parachute ripcord, the rubber trimmed tabs are easy to grip, positioned in easy reach, yet cannot be caught or activated accidentally. With the Velcro released, the harness can then be discarded by unclicking the chest buckle.
The T3 is a refinement of Zhik's T2 harness 2D Velcro system designed to reduce the speed of harness ejection from around ten seconds to just one or two.
Designed with input from Zhik's team of elite dinghy sailors, the T3 offers personalised lower back support through a combination of the Velcro waist adjustment and the movable lumbar support which can be adjusted to fit the natural curve of the spine.
For powerful trapeze dinghies and catamaran sailors, Zhik's flexible, impact protection Kollition Spine Pad can be fitted into a pocket in the back of the harness, to protect from injury during a high speed stop.
The harness is made from a robust, perforated 600 denier nylon for quick water drainage from spray, while the mesh construction is designed to increases air flow for cooling. The addition of a ZhikTex II reinforced seat panel both protects from wear and adds grip on the side decks.
RRP: $349.95, available in retailers February 2019.