Zeus cubed offers more out of the box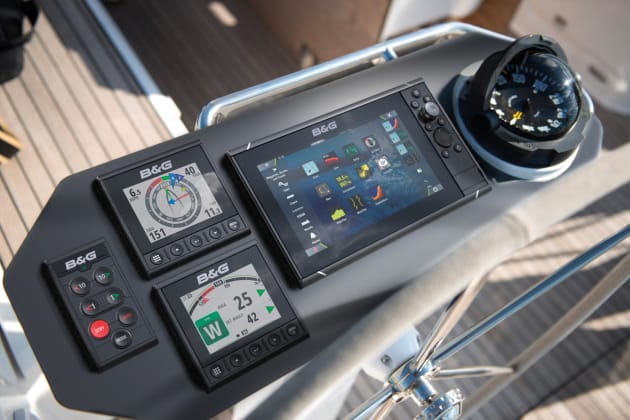 B&G introduces new chartplotter for blue water cruisers and regatta sailors.
The latest Zeus3 chartplotter from B&G combines a number of data systems and tools in a single touchscreen interface available in 7-, 9-, 12-, and 16-inch widescreen displays.
Key features of the new model include SolarMax HD screen technology designed to make the screen visible in all conditions and from different viewing angles, high performance data processing for fast chart redraw when moving, panning or zooming, and B&G's customised sailing software including SailSteer, Sailing Time, Laylines and RacePanel.
The system can be used via the touchscreen, designed for use even when wet, or by using a rotary dial and keypad for when conditions are too rough for the touchscreen. Both sets of controls can be used simultaneously, or it can be switched to non-touch mode if extreme weather conditions are expected.
Built-in Wi-Fi enables users to access Navico's GoFree online services to download charts, weather information, PredictWind and software updates directly to the display. GoFree wi-fi also enables mirroring of the Zeus3 screen on a compatible smartphone and control of the chartplotter system from a compatible tablet so that users can view the system from anywhere on board.
There is also support for ForwardScan sonar technology in conjunction with an appropriate transducer, enabling sailors to view depth and obstacles in shallow water, while the system also integrates with Broadband Radar and AIS solutions, enabling tools such as MARPA target tracking and AIS overlay to be used in crowded harbours or during regattas. Integrated B&G autopilot systems can also be controlled via the display.
Zeus3 is also designed to connect with a wide range of sensors, instruments, displays, expansion modules, and accessories to create a fully-integrated electronics solution.
The Zeus3 chartplotters will be available in March 2017 priced at:
7 inch: A$2299/NZ$2509 RRP
9 inch: A$3299/NZ$3599 RRP
12 inch: A$4749/NZ$5179 RRP
16 inch: A$6799/NZ$7419 RRP