Suzuki reveals its most powerful engine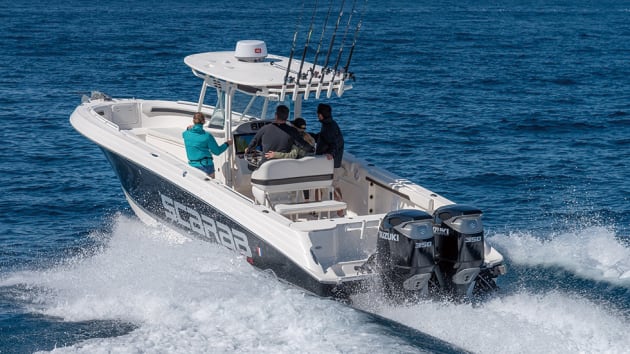 New outboard designed to deliver 350hp without increasing engine size.
Suzuki has released details of a new 350hp engine, the DF350A, which incorporates a number of first-time features from the Japanese manufacturer. It is billed as the most powerful outboard in the Suzuki range.
The engine features a Direct Intake System which is designed to lower the air intake temperature and a Dual Prop System with twin contra-rotating props. The engine achieves 350hp output without increasing the displacement through a combination of the re-designed air intake and combustion chamber which deliver a compression ratio of 12.0, the first time this has been achieved with a Suzuki outboard.
At the unveiling event held in Miami last week, Toshihiro Suzuki, president, Suzuki Motor Corporation said: "Outboards play important role in Suzuki's business, and DF350A is a model that clearly illustrates our brand slogan, The Ultimate 4-Stroke Outboard."
The DF350A will be produced at Suzuki's Toyokawa Plant in Japan, and launched in the US from July followed by a global launch.
Features include:
Compact, 4,390cm3 four-stroke V6-cylinder engine
High compression ratio of 12.0, adopted for the first time on Suzuki outboards, to achieve 80hp per litre, the maximum output in Suzuki's line-up
Direct Intake System coupled with Suzuki's Dual Louver System to boost combustion efficiency
Dual Prop System, also adopted for the first time on Suzuki outboards, designed to efficiently convert engine output into forward thrust by combining two contra-rotating propellers
Smaller gear case to decrease underwater resistance.