Stressfree Marine launches watersports rope winch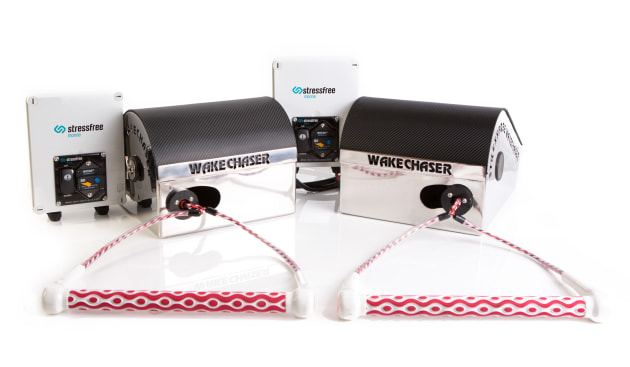 New wakechaser winch designed for on-the-water rope length adjustments.
Local winch manufacturer Stressfree Marine used last week's Melbourne Boat Show to launch its latest winch product, the wakechaser, a remote-controlled winch for on-the-water rope adjustments in seconds.
Suitable for professional and recreational wakeboarders, water-skiers and water sport enthusiasts, the wakechaser is designed to optimise finding and riding the sweet-spot of the wake.
"Applying our innovative marine anchor winch technology into the design of a watersports centred winch has been something we have been working on for over three years," said Dean Forster, company founder and lead designer. "The inability to make on-the-water adjustments had been a plague of the sport for years – this just felt like logical solution using our proven tech."
Typically wakeboarders, water skiers and tubers will manually adjust and tie-off rope onto a tower while docked. Adjusting rope lengths for different users can be a time-consuming and frustrating activity for the boat operators and riders. With the new wakechaser, adjustments can be made on-the-water to suit any rider, making it easier to change riders and change rope length when individual riders are chasing a wake or perfecting a trick.
"Wakeboard riders are particularly enjoying the wakechaser, as its drum capacity can store up to 100 feet of rope," said Jay Forster, manager. "Advanced riders often use longer lines – around 85 feet - for better tricks and manoeuvrability, while we're also seeing beginners and intermediate riders optimising shorter rope lengths, and then adjusting as they build confidence.
"It's great to be behind a tool that works for pros and recreational users."
The wakechaser is also designed to solve another problem in watersports, the issue of manual rope pull-in and tangled rope in the boat while on the water. The fully automated remote-controlled winch mechanism simplifies this task for riders, boat operators and observers.
According to Stressfree Marine, boat builders are already considering integrating the wakechaser into future builds while the the product is also adaptable for retrofitting to older boats too.
"I'm paraphrasing here, but I think it was Peter Drucker who famously said something along the lines of 'innovate or die'" said Dean Forster. "As a proud Australian manufacturer, we remind ourselves of this constantly to ensure we stay competitive and relevant in constantly changing local and global markets."