Signature speakers grow bigger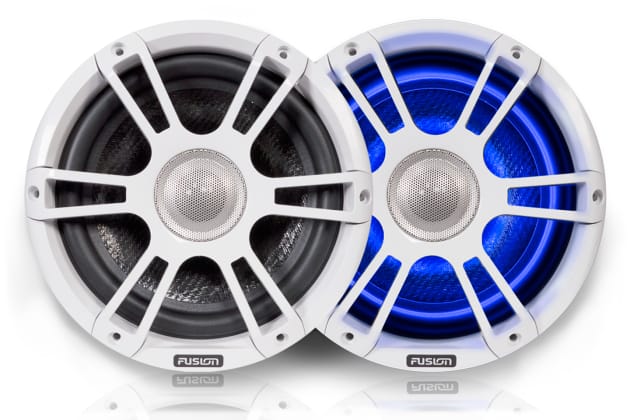 Fusion adds larger 8.8 inch model to marine speaker series.
Marine audio specialists, Fusion Entertainment, has released a bigger version of its Signature Series speakers. The new 8.8-inch speakers join the existing 6.5- and 7.7-inch models to deliver the same sound quality in a larger unit.
Featuring a redesigned grille, the speakers are available in Sports White and Sports Chrome, and are designed to blend with the decor of any vessel. A dual-colour diffused LED lighting option illuminates in either blue or white based on the polarity of the wiring.
"Our powerful Signature Series is fast becoming the benchmark of quality and durability in marine audio," said Chris Baird, managing director of Fusion Entertainment. "Our customers expressed a need for a larger speaker and we listened and delivered.
"The 8.8-inch Signature Series speakers offer the most powerful and clearest sound quality on the water. Our customers have discerning tastes when it comes to fine audio and don't believe in compromises, and neither do we."
According to Fusion, the speakers combine 'CURV' cone composite technology with a silk dome tweeter and fully sealed crossover components engineered to the True-Marine standard for a high quality listening experience and durability.