Sea Doo looks to catch the fishing market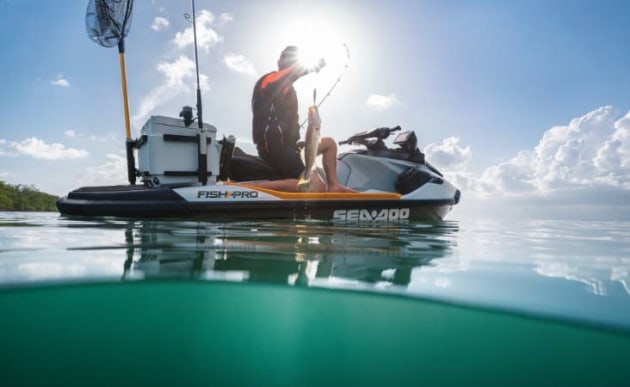 New PWC model designed as an alternative fishing platform.
PWC manufacturer Sea Doo has introduced a purpose-built model aimed specifically at the fishing market, targeting the growing number of fishermen who are using personal watercraft as a fishing platform.
The 2019 Sea-Doo Fish Pro includes a range of fishing-specific features such as a removable LinQ fishing cooler, Garmin navigation and fishfinder, bench seat for ease of movement, angled gunwale footrests for stability and comfort, and trolling mode.
"Recreational fishing is one of the top practiced activities in the world," said Bernard Guy, BRP senior vice-president, global product strategy. "And while it grows in popularity, more and more people are discovering the benefits of fishing from a PWC. The Fish Pro is a perfect choice, combining the capability they need with the versatility to be used as a recreational watercraft."
The Sea Doo Fish Pro is designed to make it easier for fishermen to access fishing spots from shallow freshwater to offshore water, spend less time preparing or cleaning up their vessels, and be more cost effective than other fishing vessels with a lower purchase price and operating costs. It can also be converted into a PWC for use by the whole family.
In addition to the new Fish Pro model, Sea-Doo also announced a new portable Bluetooth compatible audio system for Spark models, designed to fit all 2014-2019 Sea-Doo Spark models.