Panel-Stereo sets the music free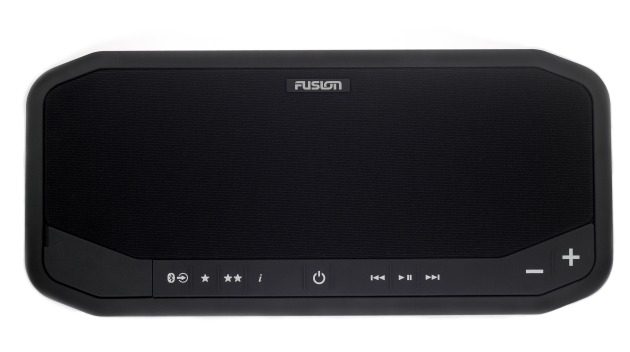 New single unit stereo system from Fusion puts marine audio in new places.
The Panel-Stereo from Fusion entertainment is a new low-profile compact audio system which combines a range of playback options with dual 3-inch speakers in a single, easy-to-mount unit.
The unit is designed for surface mounting but can also be installed directly onto any flat surface with no mounting cut-out required. The shallow depth also makes it suitable for wall cavities where standard speakers will not fit. It requires only 12V DC power, ground and AM/FM connections to be installed.
Once in place, The Panel-Stereo offers a range of playback options including AM/FM radio, USB, AUX and Bluetooth streaming. It can be controlled via Bluetooth from compatible Apple or Android devices running the free FUSION-Link app or even from a compatible Garmin watch via ANT Technology. It can also be controlled from the front of the panel where, although it doesn't have a screen, audible feedback guides the user through changing stations, music sources and saving pre-sets.
"Quality audio entertainment has always suffered at the cost of the power and space constraints," said Chris Baird, managing director of Fusion Entertainment. "With the release of our Panel-Stereo, we are giving owners a powerful and durable audio entertainment system, packed into a compact form factor for easy installation, and freeing them from the constraints of traditional stereo systems."
The Panel-Stereo meets the international IP65 standard for water and dust resistance.
More information at fusionentertainment.com.