Offshore anglers targeted with Simrad multi-level sonar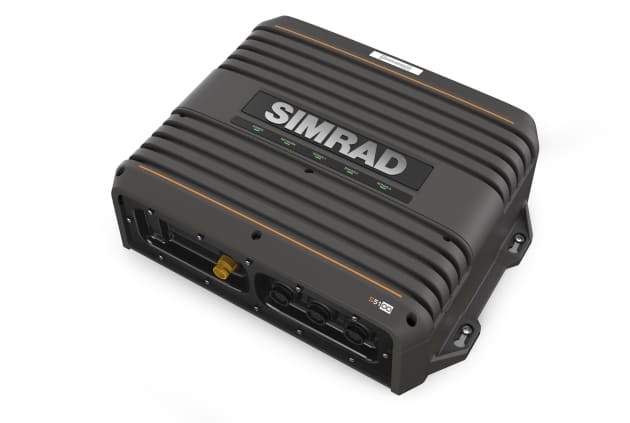 New S5100 sonar module offers three simultaneous depth ranges.
Navico has released details of its new Simrad S5100 high-performance CHIRP sonar module, billed as the first sonar module to offer three fully-independent sonar channels for simultaneous coverage of multiple depth ranges.
Targeted at offshore sportfishing anglers, the S5100 delivers simultaneous coverage of up to three depth ranges whether connected to three single-channel transducers or one dual-channel and one single-channel transducer.
Simultaneous split-screen viewing enables the user to view the parts of the water column they want with noise-free clarity at all depth ranges without ever losing bottom depth tracking.
Users can mix and match their favourite transducer coverage and transmit power for wide and narrow beam-widths to reveal more fish, detecting small and tightly-spaced fish and identifying thermoclines. Users can also adjust specific CHIRP frequencies from 28 to 250kHz and ranging from 300W up to 3kW to precisely target specific depths.
Navico says using the Simrad S5100 with Airmar wide‐angle CHIRP transducers will provide enhanced coverage of the upper water column, a perfect set up for targeting pelagic species. Wide-angle transducers are also useful in shallow water, where traditional narrow beam angles offer limited bottom coverage. A wider coverage area speeds up searches and makes individual fish targets easier to see.
"The Simrad S5100 sonar module brings a new level of high-performance sonar to offshore sportfishing anglers with greater detail and resolution," said Leif Ottosson, CEO, Navico. "We are excited to add this serious fishing tool to integrate with Halo Radar, our new autopilot line and the NSS evo3 for when your living depends on finding fish."
The S5100 features high-speed Ethernet connectivity, making it easy to install anywhere onboard, and is compatible with Simrad NSS evo3 and NSS evo2 multifunction displays, NSO evo2 glass-bridge systems and the S2000 series of fishfinders.
The S5100 module will be available in early 2017.