New stereo is music to ears of small boaters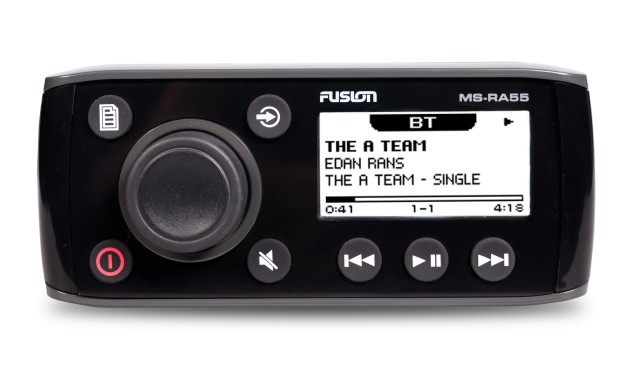 Latest MS-RA55 stereo billed as most compact Fusion unit yet.
Marine audio specialists, Fusion Entertainment, has released a new compact AM/FM and Bluetooth-capable stereo system, the MS-RA55.
The new unit features a 2.6-inch LCD display in a new style low-profile design for use in small boats, tenders and personal watercraft.
"We take our role as the innovator in audio design very seriously," said Chris Baird, managing director, Fusion Entertainment. "With the release of the ultra-compact MS-RA55, we are bringing Fusion sound to a new class of boater. Whether taking the dinghy to the yacht or tearing through the waves on a personal watercraft, every boater deserves to have Fusion entertainment onboard."
When mounted correctly, the front face of the stereo is rated IPx5 waterproof and the LCD display is daylight viewable with adjustable contrast for use in any light level. Along with the AM/FM tuning, the Bluetooth audio streaming allows users to stream audio from their favourite apps such as Pandora, Spotify and Apple Music with the ability to skip tracks and adjust volume from both the stereo face and the connected device.
The unit also allows for independent control of the balance and volume level in two separate audio zones as well as linking zones together for setting volume limits. An additional line out and sub out are included and linked to Zone 1 for the optional inclusion of an amplified speaker set.
The MS-RA55 is available for purchase now from authorised dealers and retailers worldwide. More information from www.fusionentertainment.com.