New releases from BLA Distribution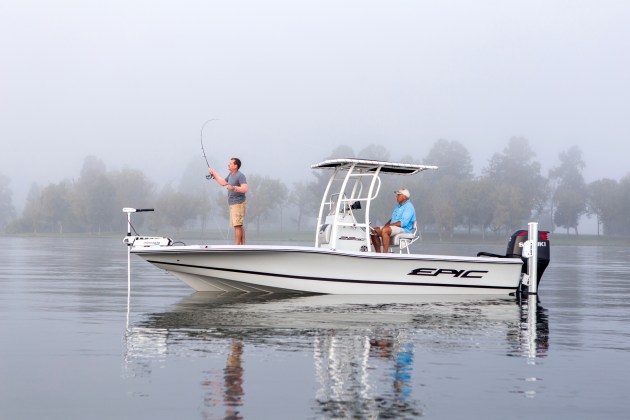 A round-up of the latest product releases for the boating and fishing market from BLA Distribution.
Fishmaster T-Tops and accessories
Fishmaster was created to provide innovative and affordable products to fellow fishing addicts. The brand began in 2005 when a team of seasoned engineers who had designed the popular Monster Towers wakeboard tower set out to build a universal T-Top that could fold for fixed bridges and storage.
A team of engineers, professional fishermen and boat dealers provided input from every perspective - installation, ownership, design, structural analysis and manufacturing. The team had one common goal - to create a great T-Top and make it affordable.
Fishmaster then set their sights on providing a complete line of accessories for the T-Top including swivel rod holders, innovative soft goods storage products and many others.
The Fishmaster T-Top range now includes the original Folding T-Top and the Pro Series T-Top.
Pro Series features:
Available in bone white powder coating for a factory-appearance.
Industry leading weather protection - more than 3.2m2 of coverage featuring Sunbrella fabric for years of optimum weather protection and comfort
Largest T-Top tubing in the industry at 57mm using aviation grade 6061 T6 schedule 40 aluminium for optimum strength-to-weight ratio.
Stylish patent pending design includes integral grab handles and lateral support bars that provide strength without interfering with the side doors of most centre console models
T-Top folds without tools for dry stack or garage storage, trailering and low bridge or tree clearance
Installation package includes stand-offs as standard that affix to the console to maximise stability
Sides adjust from 60cm to 127cm wide to fit virtually any centre console model
RRP: $3,649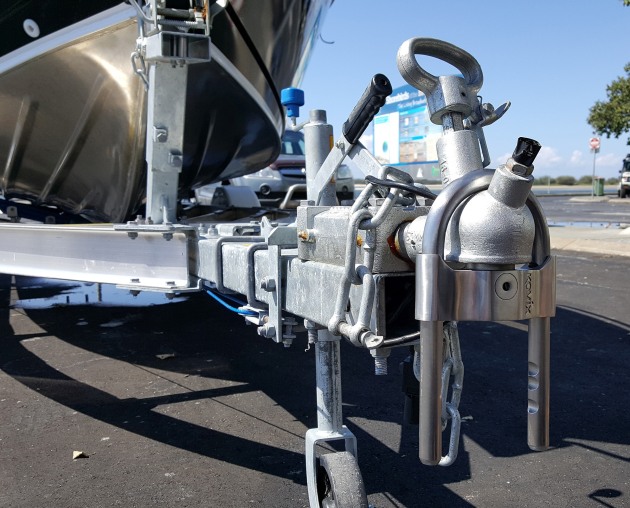 Kovix alarmed trailer lock
The Kovix Alarmed Trailer Lock, which featured in Marine Business earlier this year, is a high-strength, stainless steel trailer lock with built-in 120 decibel alarm system. It is designed to suit all boat, jet ski and tradie trailers and more.
Features:
Heavy duty ultra strong stainless steel trailer lock
18mm stainless steel U Bar
Waterproof, drill and saw resistant
Built in 120db alarm system
Rechargeable polymer lithium ion battery
Lock includes set of three keys
RRP: $225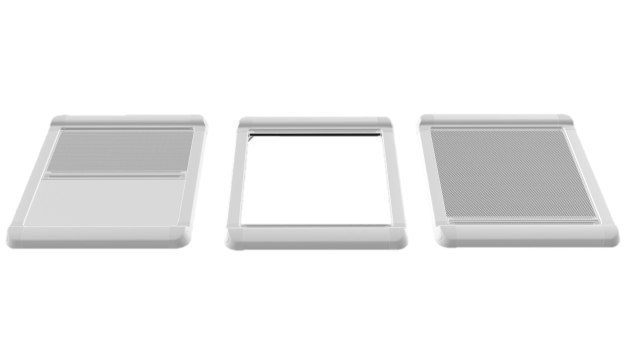 Lewmar Eclipse shade range
Lewmar has released a new range of roller and port shades called the Eclipse.
Easy to assemble, fit, maintain and adjust, the new shade range is the perfect addition to Lewmar's hatch and portlight range. All components have been specially selected for their suitability in withstanding the harsh marine environment. The chosen polymers and fabrics are designed to look good within the interior of any boat and are easy to keep clean with excellent resistance to damp conditions.
Simple and clean in design the range will complement the internal styling of any boat and provide the perfect solution to insect and light protection.
Eclipse roller shade features:
Flyscreen material - allowing airflow whilst keeping insects out
Blackout material - water repellent, UV stable & wipe clean
Sleek aesthetic handle system which locks in place with magnets
Easy to operate magnet system to connect both shades
RRP: from $299
Eclipse port shade features:
Easy to assemble in two parts
Five sizes to cover all standard portlight sizes
Same fabric as roller shade/matching
RRP: from $107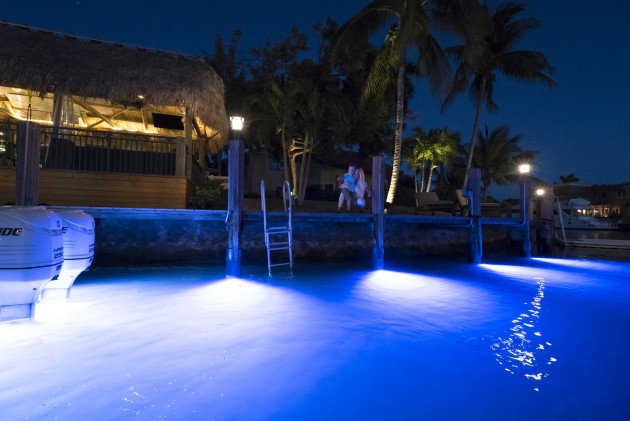 OceanLED underwater LED dock lights
The new OceanLED underwater LED dock light packs an impressive 5,000 fixture lumens into a small body and, combined with its advanced optics, is designed to create a truly remarkable 'Best-In-Class' performance. It is compact with a simple design and small footprint.
Billed as the brightest dock light in its class, it provides safety and security at the dock, as well as providing a backdrop to dock parties. It is easy to install and maintain with a choice of standard fixed dock or optional floating dock brackets.
Features:
11,600 lumens/5,000 fixture lumens
90˚/20˚ Beam angle
A true wide-angled, focused beam to light up a large area of the water around the dock
Compact and simple design
Simple to install
Easy to clean Tritonium coating
Active Thermal Control prevents overheating
RRP: from $1,362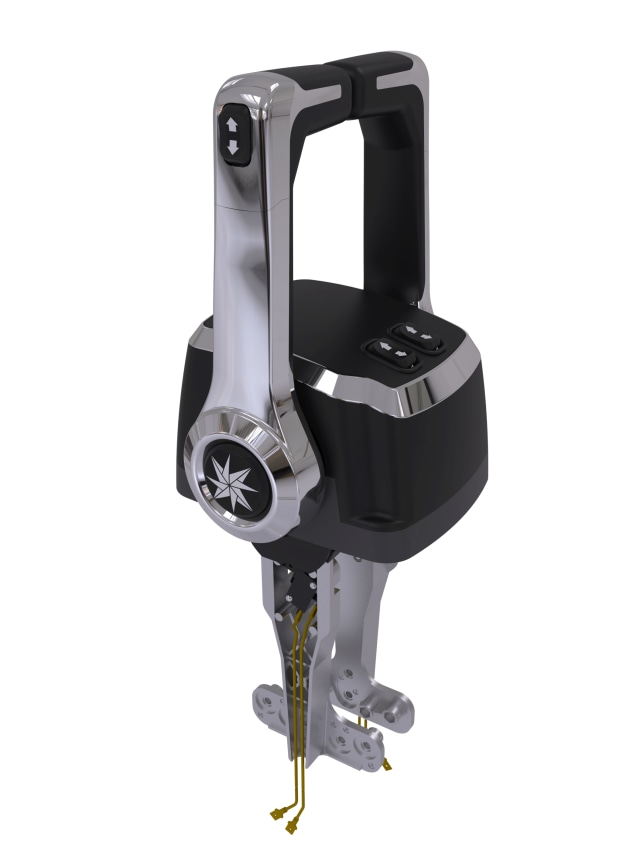 SeaStar Solutions Xtreme series top mount control
The ergonomics and features of SeaStar Solutions' new Xtreme controls combine to offer a shapely, balanced handle design for a smooth yet positive feel. Features include neutral throttle warm-up and start-in-gear protection as standard with power trim/tilt offered as an option. The cosmetics of the controls can be configured to suit many tastes.
Xtreme controls are suitable for use with both 3300/33C universal or OEM type control cables without the need for additional adaptors. The handle is on the left side of the bezel.
Features:
Suitable for most single engine/single station combinations
Can be used in dual station boats with the DS unit
Trim & Tilt options available
Drag adjustment on all models
Easy installation and set up
Neutral "warm up" button for throttle only operation
Designed and assembled in the USA
RRP: from $531 for single, $1,074 for twin.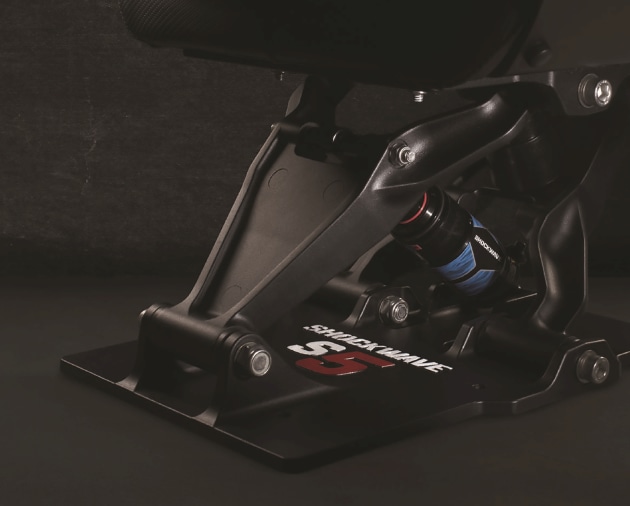 Shockwave seat suspension S5
The Shockwave S5 provides boaters access to the marine suspension technology that has been tested for years with military clients, providing them with on-the-water opportunities and experiences like they never have had before.
This new suspension module allows boaters to be better protected from the shock of wave impact. The S5 fits on virtually any boat and seat, allowing boaters of any size or design to benefit from suspension seating on the water.
Features:
Simple robust construction with minimal parts count
Lightweight (9kgs)
High-pressure die-cast aluminium components
Stainless steel hardware
High life-cycle Delrin bushings
Military spec powdercoat finish
Available in black or white
Designed and manufactured in Canada
Fully adjustable RockShox shock absorber for all payloads and sea conditions
External bump stop protection
Surge protection: suspension travel is 100mm vertical and 38mm forward, mitigating deceleration associated with wave impacts
Adjustable rebound rate
3 year warranty under recreational use and 1 year warranty under commercial use
RRP: $1,995