New joystick control from Suzuki Marine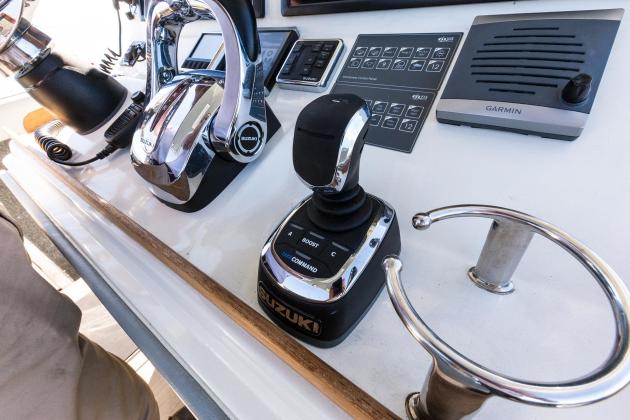 New SPM joystick control designed to handle all conditions and speeds.
Suzuki Marine Aust/NZ has released the Suzuki Precision Manoeuvring (SPM) joystick control system designed to offer a seamless driving experience in any condition or at any speed.
The SPM system provides fully integrated electronic throttle, shift, steering and joystick control for twin and triple-powered boats equipped with Suzuki's high-performance four-stroke outboard motors. It is available for use with DF150TG, DF175TG, DF200AP, DF250AP and DF300AP outboard models.
The system uses the Suzuki Precision Control (SPC) drive-by-wire throttle and shift controls combined with electronic power steering and joystick control systems.
According to Sean Allen, national marketing manager Aust/NZ, the result is a consumer experience that allows for confident, seamless control, whether manoeuvring in close quarters or running at speed in challenging offshore conditions.
"We are extremely excited about the release of Suzuki Precision Manoeuvring," he said. "This system combines the very latest in control technologies and reflects our strong commitment to Boating Made Better.
"Whether it be docking, trailering or while underway, our SPM takes the worry out of steering and manoeuvring in more difficult situations to let you concentrate on enjoying your time on the water."
While underway at higher speeds, an advanced electronic helm provides steering via a control module, with steering effort and number of turns lock-to-lock customisable based on the user's driving style and the boat's performance characteristics.
At low speeds, the joystick can be engaged, providing integrated throttle, shift and steering control to manoeuvre the boat in practically any direction when pulling up to the dock, trailering or navigating through close quarters.
SPM also features fail-safe sensors and back-up systems to assure reliable operation and performance.
More information from authorised Suzuki Marine dealers or visit the website.