Navico updates B&G, Lowrance and Simrad features
Software upgrades and new features for Navico fishing, cruising and sailing electronics.
Leading marine electronics manufacturer, Navico, has announced a range of software updates and new features across its B&G, Lowrance and Simrad brands. The new upgrades include:
Simrad software updates
Updates to Simrad NSS evo2, NSO evo2, GO5 XSE and GO7 XSE displays include major sonar enhancements, new Navionics functionality and general software improvements.
Time Variable Gain (TVG) functionality has been enhanced to remove clutter at the top of the screen without affecting fish targets near the surface. With this enhancement, TVG reveals fish hidden in the surface clutter rather than filtering all returns near the surface which, at times, can reduce the usefulness of the top portion of the water column. This allows anglers to remove clutter caused by suspended sediment, wave action and other disturbances, without affecting fish targets. The update also simplifies the TVG scale, refining TVG levels down to four options, making it easier to use. Additionally, Auto Gain calculations have been improved to yield better performance across a wider range of transducer installs and vessel speeds.
SonarChart Live gives anglers the capability to create 0.5m HD bathymetric maps in real time on NSS evo2, NSO evo2 and GO XSE displays. Maps are created by converting sonar returns into detailed contour maps as the user navigates. Ideal for anglers fishing a new location, SonarChart Live is designed to raise awareness of shallow areas and reveal uncharted bottom features. It requires a Navionics mapping card with an active chart updates subscription.
Navionics Dock-to-Dock Autorouting creates intelligent, detailed routes for navigating through cramped, narrow passageways and channels, factoring in data from nautical charts and SonarChart Live such as chart data, navigation aids and water depth to display the suggested route. This also requires a Navionics card with an active chart updates subscription.
With Navionics Plotter Sync, anglers can download the latest Navionics chart data and transfer waypoints and routes between the Navionics app and a Navionics card via the wireless connectivity of NSS evo2 and GO XSE displays. Additionally, waypoints and routes can be imported from the Navionics card to the waypoints/routes/trails database of NSS evo2, NSO evo2 and GO XSE displays. Plotter Sync requires a subscription to the Navionics app and a Navionics mapping card with an active daily updates subscription.
New software enhancements will enable the displays to work directly with all third-party audio equipment that conforms to the NMEA 2000 Marine Entertainment/Audio Protocol, including select equipment from audio partners JL Audio, Infinity and Polk with more to come.
Lowrance Live Network Sonar
In addition to the updates to outlined above, new software updates for the Lowrance HDS Gen3, Elite-5 Ti and 7 Ti displays include Live Network Sonar which allows HDS Gen3 users to view and control two independent, live sonar sources — like at the front and the back of the boat — from a single display.
Eliminating the need for separate displays, or alternating networked sonar sources on a single display, this new feature provides anglers with a comprehensive picture of underwater activity.
Live Network Sonar is not available in the Elite-Ti update.
B&G PredictWind
In addition to the upgrades outline above, the B&G range of sailing navigation instrumentation also gets an update that offers PredictWind weather services direct to its Zeus and Vulcan (excluding Vulcan 9) chartplotter range. The online-based weather forecasting service provides the latest weather and sailing information to sailors all around the world.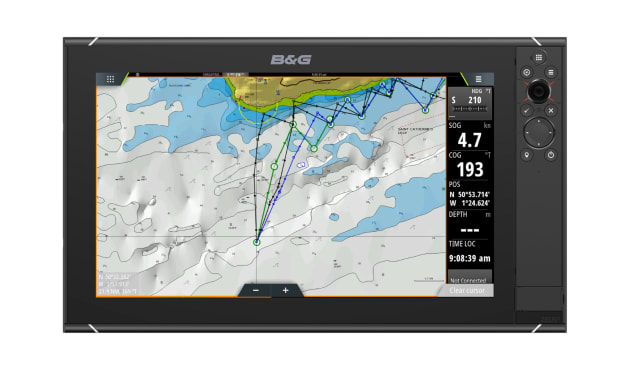 The new software update will enable sailors with PredictWind accounts to plan routes in seconds utilising PredictWind information such as wind, swell, rain, cloud, isobar and air temperature directly on the B&G chartplotter. Sailors can enter a normal route and then receive a number of suggested optimum routes based on different weather models, times and days.
The information on the routes can be based on departures at a fixed time, good for racing yachts, or can provide multiple routes based on different departure times, for example leave at 17:00 on a Friday or +24 hours, +48 hours, +72 hours later. This enables the sailor to compare the options that are best for the journey being undertaken.
The new software is available to download from the B&G website from the end of February 2017.
Halo VelocityTrack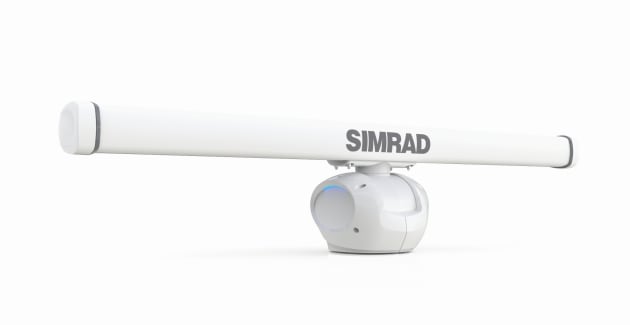 VelocityTrack is a new feature for Simrad's Halo pulse compression radar which adds the ability to track the motion of radar targets in relation to the boat, thereby reducing the risk of a collision.
Using the Doppler effect, VelocityTrack enables the radar to determine whether a target is closing, diverging, or stationary relative to the boat. Closing or approaching targets are automatically highlighted with the option to de-emphasize diverging or retreating targets.
Complementing MARPA target tracking, VelocityTrack is designed to offer an immediate view of all relative target motion, making it easier to pick out relevant targets to track and ignore targets that are not a collision risk.
Starting in June 2017, consumers will be able to download the feature by purchasing a VelocityTrack unlock code from a Simrad dealer or from the GoFree Shop.