Mercury outboard goes left and right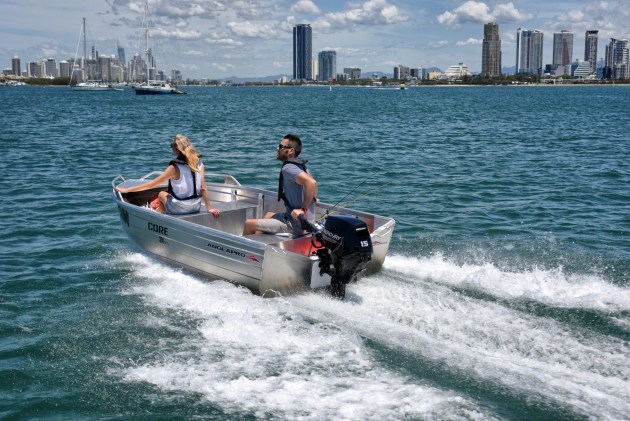 Latest release has adjustable tiller for both left and right handers.
Mercury Marine's latest 15 and 20hp EFI FourStroke outboards will feature an adjustable tiller handle that can be adapted for both left- and right-handed operation.
Traditionally, tiller handles are mounted on the port side of outboard motors for left-hand operation. However, research by Mercury found that a significant percentage of boaters prefer right-hand control.
To cater for both sides, the new outboards feature a centre mounted tiller that can be adjusted by up to 18° to either port or starboard. The throttle grip rotation is also reversible to provide a consistent mode of operation, regardless of driving-hand preference.
The tiller handle can be adjusted vertically -5° to +10° to cater for different operational heights, and there is a tilt lock feature that locks the tiller at 73° when it needs to stowed out of the way.

The Multi-Function Tiller Handle has an integrated forward mounted shift lever and the stop button is in the throttle grip. The throttle friction knob has a large, soft-touch rubber over mould making it easy to grip.
Select models include Power Tilt for assisted engine tilting in shallow water or when trailering.
"This all-new, proprietary tiller handle is adjustable in ways never seen before on portable outboards," said Nicholas Webb, senior director of engine products (Australia NZ & Pacific).
"Put simply, it's extremely user-friendly. It can be set up for right- or left-hand operation and the vertical down stop is adjustable to accommodate different body frames and boat layouts so it will really enhance your boating experience."
The engine platform starts at 45kg, 13% lighter than the one it replaces, and comparable to the existing two stroke model in Mercury's outboard line-up. It features battery-free EFI for fast, reliable starting, a no-drip, no-spill oil drain system, fresh water flushing attachment, and water separating fuel filter.
"This is an engine that is easy to start, intuitive to operate, lightweight and fuel-efficient. Our goal is to develop an intuitive product that enhances true customer boating experience," said Webb.
The new 15hp EFI FourStroke outboard is also available in ProKicker models and SeaPro commercial models.
Pricing and a complete model list will be available in early 2018.