Mercury adds new 115hp FourStroke to Pro XS range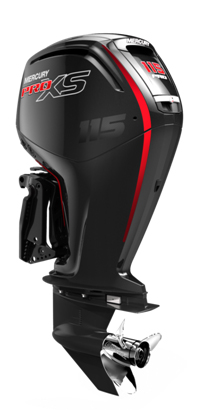 New 115 Pro XS FourStroke outboard unveiled at Miami International Boat Show.
Mercury Marine has released details of a new 115hp four stroke engine which joins the Pro XS range and is designated the 115 Pro XS FourStroke.
Mercury said the new engine should appeal to both freshwater and saltwater boaters, and especially tournament anglers. It is based on Mercury's 115 FourStroke engine but, according to Mercury, is designed to deliver significantly better performance than any other high-output 115hp outboard on the market.
Mercury says the new 115 Pro XS is 4% lighter than its nearest competitor while its 2.1L displacement is one of the highest in its class. Engine rpm has been boosted to 6,300rpm, delivering a top speed which Mercury says is up to 4.8 km/h faster than its nearest competitor.
The new engine also delivers faster acceleration, more than a second quicker than the standard 115 FourStroke, reducing 0-30km/h acceleration time by 1 to 2 seconds.
Other features of the 115 Pro XS FourStroke include:
An automatic charging system that monitors battery voltage so that if it falls then the engine's idling level is increased in 25rpm steps up to 800rpm and stays there until voltage returns to normal.
A 25-inch (63 cm) shaft in addition to the standard 20-inch (50cm) shaft which makes this engine an ideal option to power or repower a wide range of boats, particularly five to six metre aluminium and fibreglass boats.
The addition of a Command Thrust gearcase which makes it compatible with Mercury's larger-diameter propellers, helping to lift heavy boats onto the plane easier and hold them there at lower speeds.
"It looks fast": Mercury users give their verdict on the new 115 Pro XS FourStroke outboard.