MarineTraffic launches updated OnCourse app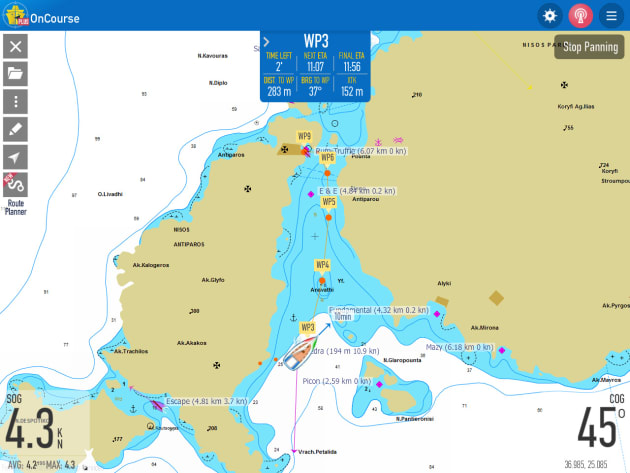 Vessel tracking app adds augmented reality for viewing landmarks and vessels.
Vessel tracking service, MarineTraffic, has released an upgraded version of it OnCourse app which enables recreational boaters to share their trip details with friends and family in real-time.
The upgraded app also allows users to plan and review routes and see and learn about vessels and landmarks around them using an augmented reality feature. The new feature, usually part of the OnCourse Plus subscription, is free to trial during July.
MarineTraffic is a popular global AIS facility with over 940,000 registered users and 520 million vessel positions registered each day. It is an open, community-based platform providing free real-time information to the public about ship movements and ports around the world. It also offers premium information and mid-ocean coverage to subscribers.
The system is based on the Automatic Identification System (AIS) with MarineTraffic operating over 3,000 AIS receiving stations located in more than 165 countries.
OnCourse is a self-reporting tool that simulates data transmitted by AIS transponders. The app uses the internet to transmit data and not actual AIS radio-frequencies. As such, vessel positions reported via OnCourse are visible only on the app and MarineTraffic.com. They will not be visible to the AIS receivers of other vessels.
Users of OnCourse input their vessel's MMSI call sign number, or if their vessel has no MMSI, they can generate a unique vessel ID using the app. They also configure other vessel details such as a vessel's name, call-sign, dimensions, destination and ETA. Once a vessel's ID and details have been established its position can be calculated by the app using the host device's own Global Positioning System (GPS) sensor.
OnCourse is designed to use a minimum amount of bandwidth so that even if it is set-up to send position reports at the highest frequency, it will still only use around 150 bytes per minute or 210KB during one day of continuous use.
"Our app development team have added some exciting new features to the app that can be used by any sailor or boat owner with an iOS or Android device and mobile internet to help navigate and monitor their own position and those of other vessels," said Demitris Memos, MarineTraffic managing director. "We hope OnCourse will make sailing and boating more accessible and fun for thousands of users."
New features for the free version of the app include:
Ability to add customisable stand-alone waypoints to the map
Collision detection and avoidance while sailing, showing Closest Point of Approach (CPA) and time to CPA
Ability to export your voyage to GPX file or Route Planner for editing
Support of different units for distance, speed, temperature and latitude/longitude
View time/dates as UTC, Local and more
New over land/water function
New features with the subscription version include:
Enhanced Route Planner follows the vessel's track while sailing and guides the user to the next waypoint
Additional information during sailing (time to next waypoint, next ETA, final ETA, distance and bearing to waypoint, XTK)
Voyage planner feature: Enter starting point and destination and the app will calculate the optimal route
Virtual Reality. Augmented Reality feature can be used in combination with VR glasses for an enhanced experience
View stand-alone and Route Planner waypoints in Augmented Realit  and Virtual Reality