Lumitec adds new LED lighting for work and play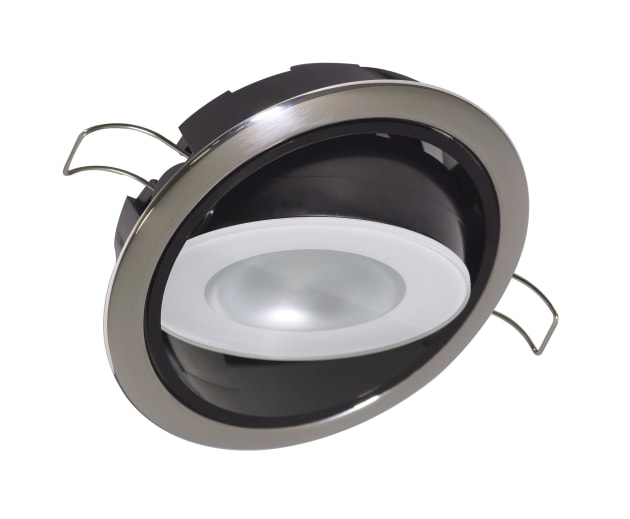 Australian Marine Wholesale introduces new Lumitec LED lighting options.
US marine lighting manufacturer, Lumitec, is releasing eight new LED light designs through local marine electronics supplier, Australian Marine Wholesale (AMW). The new models include:
Maxillume h60 and h120 flood and work lights
The Maxillume range of flood lights have been relied upon by the world's top custom yacht builders and the US Coast Guard for the past decade. The new h60 and h120 models have been engineered to incorporate the latest advances in LED emitter technology with improved optics and cooling.
The new h60 flood has an output of more than 6,000 lumens, delivering twice the output of previous models. It has new mounting options and the Lumitec internal dimmer control.
The Maxillume h120 has been designed and engineered for tough-working applications having been tested to withstand vibration and shock. Housed in a heavy-duty aluminium casing, it delivers more than 12,000 lumens of measured output.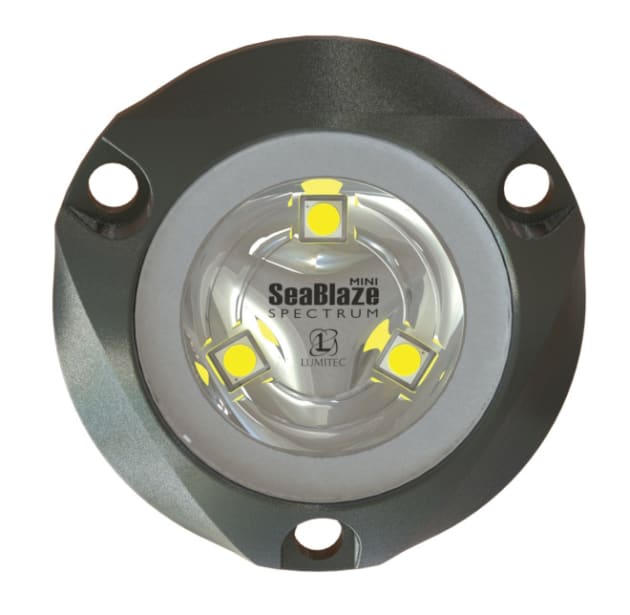 SeaBlaze Mini LED Spectrum underwater lights
Lumitec has expanded its best-selling range of underwater lights with the new full colour-colour RGB SeaBlaze Mini Spectrum that offers nearly infinite colour options with 500 lumens of measured light output.
Constructed from a robust anodised aluminium housing, the new lights offer a series of user-selectable modes and come with an easy surface-mounting system that can be quickly and easily connected with just two wires and no external control boxes. The lights are sold as a pair and are designed specifically for boats up to 28' in length.
Square Mirage and positionable Mirage LED down lights
Lumitec has released two new models in five new designs in the popular Mirage LED series. These include a round positionable light with a 33.5 degree angle of rotation as well as a series of European square glass finish designs with a choice of white, glass or polished trim options.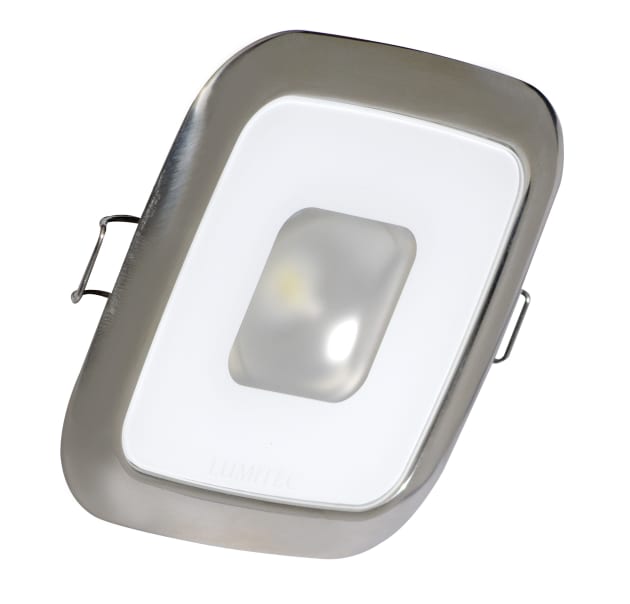 The new models can be customised and are available in white or the Spectrum full-colour output, colour cross-fade or any colour in the rainbow.
Pinnacle LED flood light
This new range of cockpit flood lights is designed with a durable aluminium housing that is completely water sealed. Available in a choice of black, white, or chrome, the compact flood lights offer 1,000 lumens of measured light output.
The Pinnacle is described as the ideal choice for replacing an old halogen light fitting or for installation where a high-powered deck flood light is required for any weather condition.
Fast growing company
AMW managing director Errol Cain said he is excited to offer the new LED light designs to Australian boat owners.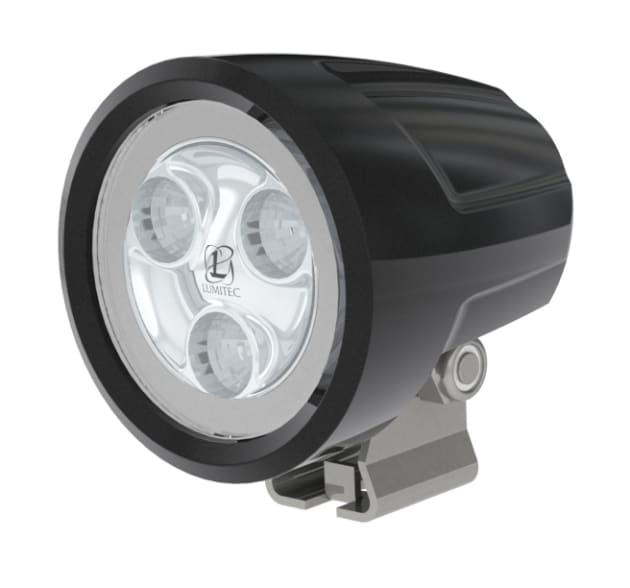 "The sole focus of Lumitec Lighting over the past decade has been the creation, development and manufacturer of extreme LED lighting solutions. They have proven their superiority in extremely demanding applications from emergency services to construction and mining equipment to deep-sea trawlers and some of the most beautiful yachts now cruising the world's oceans," he said.
"Recognised as the sixth fastest growing manufacturing company in the United States, Lumitec Lighting has also been voted by industry leaders in the US as providing the best supplier support and offer an extremely comprehensive collection of dedicated designs for marine, on-highway, off-road, emergency and scene flood-lighting.
"Every Lumitec light fitting is designed, hand assembled and tested at the Lumitec state-of-the-art production USA facility in Delray Beach Florida.
"Lumitec is the first and only LED light manufacturing company in the United States to offer a three year warranty across their complete range of over 180 individual extreme environment LED lights.
"Australian Marine Wholesale are proud to have enjoyed a seven year partnership with Lumitec Lighting. Their president John Kujawa is a real driving force in new product development. These latest new underwater, flood and down light designs really do demonstrate the ingenuity and market leading position of Lumitec extreme environment lighting globally."