Listen and look with Fusion RGB speakers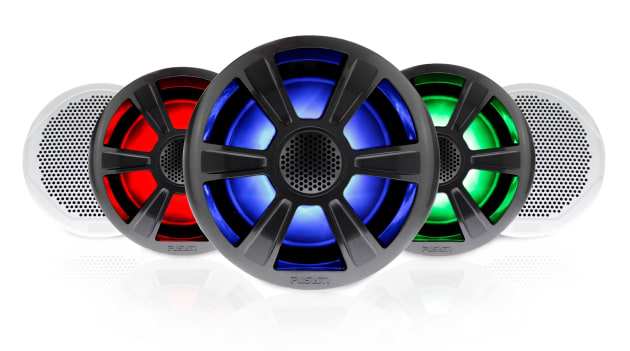 Customise your listening experience with red, green or blue LED lighting.
Marine audio specialist, Fusion Entertainment, has released a new range of speakers, the EL series, which enables users to customise their listening with red, green and blue LED lighting.
The new speakers released at SCIBS last week are suitable for both internal and external installations and are available in a choice of Classic and Sports grille configurations with the LED lighting available on the Sports grilles. The lighting can be controlled with an RGB controller that is sold separately.
Offered in 150 Watt 6-inch or 180 Watt 6.5-inch sized speakers, the EL series houses a polypropylene cone and PEI flush-profile tweeter in a water-resistant chassis. The speakers have a mounting depth of 41mm and come complete with tinned speaker wire, mounting gaskets and stainless steel mounting screws, ready for installation from the box.
"Fusion marine entertainment systems give boaters a premier listening experience," said Chris Baird, managing director. "The EL Series speaker range offers Fusion quality to customers at a cost-effective price point and provides another way for users to further customise their listening experience by adding colourful LED lights that they can change based on their mood."