Get on deck: hardware highlights for boats
A round-up of marine hardware products for fitting out your boat from leading local suppliers.
Whether it's for winding, cooling, sitting or climbing, there is a vast array of quality marine hardware products on the market from which to choose.
Strong links to quality
In Australia, the main type of chain used for all windlass applications is Grade L standard chain. Local distributor All Marine Spares (AMS) supplies the popular Titan brand of chain of which its Grade L standard is the top seller.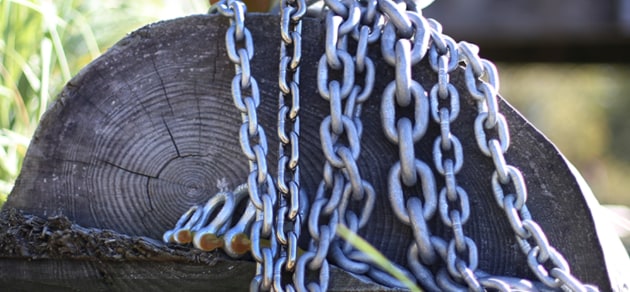 Titan Chain is produced by Canada Metal Pacific, well-known in the industry for leading brands such as Rocna Anchors, Martyr Anodes and Dockedge products. Its G30 Grade L Windlass Chain is a low carbon steel chain specifically manufactured to Australian Standard AS2321-2006. The Grade L calibrated short-link design ensures a proper fit for most Australian windlasses.
All the chain is hot dip galvanised for protection against corrosion and is manufactured and proof-tested in an ISO-9001 environment to ensure lasting quality and strength for boat anchoring and mooring applications.
"It is important to note that a lot of low-grade unmarked chain is imported and sold into the marine market and when it fails, breaks or rusts customers are not able to look anywhere for warranty cover," said Jason Mitchell at AMS.
"Titan Chain by CMP ensures that every metre of chain has the manufacturer's marking and G30 rating embossed in the chain to ensure traceability for consumers and guaranteeing the highest quality marine chain in the market."
Titan Chain is available in pails, half drums and full drums for all applications. All Marine Spares stocks all sizes for any marine application, shipping Australia-wide.
Glazing solutions a clear winner
For more than 50 years, VETUS has been supplying glazing products to the marine industry. As a result, the company has gained a huge amount of knowledge and experience in this field, enabling it to offer the best quality products at the most competitive prices. Whether it's a windscreen wiper system, a flush hatch or a custom window, the company's dedicated glazing team is able to provide solid advice and excellent after-sales service.
VETUS can provide a complete solution for all marine glazing requests, offering a wide range of standard and custom made windows, windscreens and hatches.
All VETUS glazing products have a uniform appearance. All hatches and portholes are CE marked in accordance with the Recreational Craft Directive and all windows, windscreens, doors and cabin entries have been tested according to ISO 12216. Portholes are delivered with a mosquito screen as a standard.
Wipers, arms and blades
The VETUS high quality marine windscreen wipers feature a powerful but quiet two-speed electric motor and a separate worm gear transmission. The wiping angle can be adjusted to eight different settings.
The Type RW wiper has a parallel push fit connection while Type DIN has a tapered and knurled connection with a securing nut providing a stronger connection between the wiper arm and the motor drive shaft resulting in a longer life span for both parts. Both types are self-parking and meet the EMC requirements.
Wipers are available for 12 or 24 Volt DC supply with 30 Watt output. They are suitable for panel thicknesses ranging from 3mm to 13mm (short shaft) or 3mm to 38mm (long shaft). Optional extras include a screen washer kit, three-position switch, protective synthetic cover, and control panel.
Windlasses for all boats
Maxwell Marine (a VETUS company) will celebrate its 50th anniversary in 2019, its longevity in the marine industry a testament to its proven designs and the quality of both parts and manufacturing.
Maxwell produces anchoring systems to suit vessels from 4.5m through to 100m. Within its power and sail range, the company has an extensive range of horizontal and vertical windlass models to suit boats from 4.5m to 20m as well as a range of VC versions including the popular Anchormax model. The power and sail models utilise Maxwell's own designed and manufactured proprietary gearboxes.
The most recent release from Maxwell is the RC12HD model which is suitable for heavy duty and commercial applications on vessels up to 24m.
Maxwell also has superyacht windlasses suitable for vessels up to 100m which can be produced to custom requirements.
In addition to its range of windlasses, Maxwell also has a comprehensive range of ancillary equipment such as anchor chain, rope/chain rodes, Maxset anchors and bow rollers designed to provide a full Maxwell Anchoring system.
Put it on a pedestal
Sam Allen Wholesale has introduced two new products in its Relaxn range of accessories.
The first new release is a stylish table pedestal which enables the customisation of almost any table surface, adding value to any boat or yacht. The pedestal is manufactured in 316-grade stainless steel and polished to a high lustre mirror finish. From the die-cast base to the two-stage telescopic gas strut, no part of the pedestal has been overlooked. It has an elegantly designed adjustable lever and nylon washers for smooth and silent operation.
The pedestal adjusts from 420mm to a maximum of 710mm and has a base diameter of 254mm. The outer post diameter is 108mm. The six 6.5mm mounting holes allow the table pedestal to be mounted on any deck surface while the 300mm x 300mm table plate enables any surface to be installed. The total weight is 10kg.
The second release is a high-performance suspension pedestal for marine seats which uses the Relaxn shock mitigation system engineered to put the comfort back into any ride.
The suspension pedestal can be fitted in a wide range of marine craft and suits any of Relaxn's range of marine seating. It suits both new set-ups or can be easily retro-fitted where suspension seating is needed.
The frame is CNC precision-cut, machine-engineered from marine grade aluminium with an anodised finish. The heavy-duty gas strut can be adjusted providing the perfect ride, combined with up to 10cm of travel rated from 75-120kg. The use of all stainless steel fasteners with nylon washers makes for a smooth, silent operation. This seat pedestal is designed to handle anything the harsh Australian marine environment can throw at it.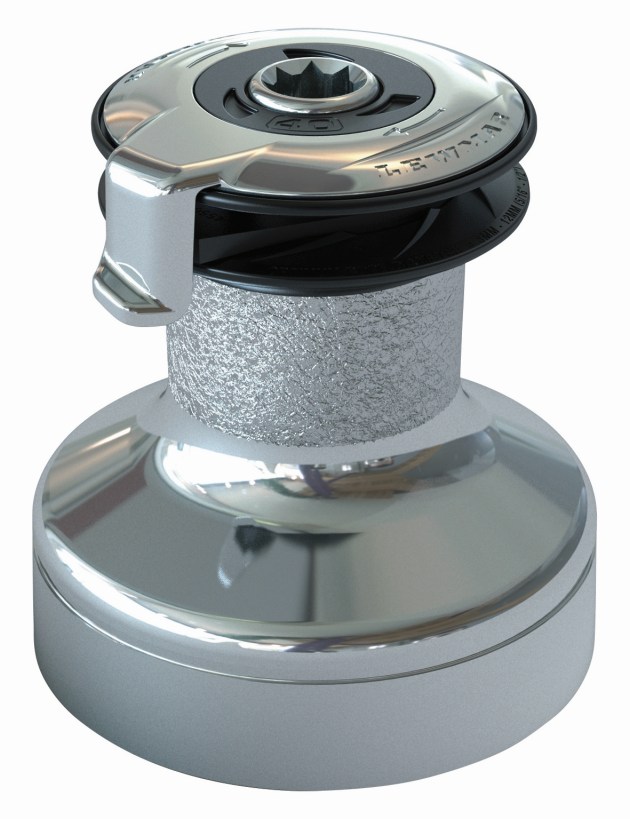 The evolution of EVO
Lewmar's range of EVO winches has been designed and manufactured to the highest quality using state-of-the-art materials and technology, making them the most advanced range of standard and self-tailing winches.
Development of the EVO range has evolved from the renowned Ocean winch, the most popular winch ever made, culminating with further improvements in design and material applications.
There is a wide range of EVO winch sizes, finishes, materials and types available, including black alloy, chrome bronze and grey alloy finishes. Size 40 and above standard manual winches can also be converted to full electric operation with the addition of a conversion kit, motor and gearbox and operating switch.
EVO winches include easy tool-free servicing and come with a seven-year worldwide warranty.
Constant torque from hinges
Marine Town's Friction Seam Hinges feature revolutionary technology designed into the hinge barrel that creates constant torque, enabling you to keep doors open without any torque adjustments. Example applications include overhead doors, baitwell lids, glove boxes, access doors, interior doors, anchor lockers, electronics panels, hatches and similar.
The hinges have passed a 10,000 repetition cycle test and lost less than 20% torque, while on a 20,000 repetition test they lost less than 25% torque. They have also passed a 500 hour salt-spray test.
Marine Town's hinges are available in short leaf, long leaf, and covered and uncovered versions.
Climb aboard and sit down
VETUS offers a range of onboard equipment and accessories under its V-Quipment brand including boat seats and boarding ladders.
Whether it's for a small fishing sloop or an exclusive motor yacht, the V-Quipment range can supply a boat seat to meet all expectations. All seats and benches are finished in maintenance-free, water and UV resistant vinyl imitation leather, ideal for marine use.
All V-Quipment ladders are made of high-gloss polished stainless steel and are available as both telescopic ladders and folding ladders with three or four steps and with various grips.
Cool running with VETUS vents
In addition to combustion air, marine engines also require sufficient ventilation air to dissipate the radiated heat. The required volume of ventilation air is about the same as the combustion air needed which is approximately 6.1m3 per kW (4.5m3 per HP) per hour based on a maximum air velocity of 3m/sec. The design of the VETUS air suction vents is based on these principles. The model numbers relate to the engine horsepower for which they are suitable.
VETUS offers the following types of vents:
Type ASW has a polished anodised aluminium frame with grilles of naturally anodised aluminium.
Type SSVL has a frame and grilles made of high gloss polished stainless steel (AISI 316).
Type SSV is made of high gloss stainless steel (AISI 316) and has anodised aluminium louvres.
Type ASVREC has frames made of polished anodised aluminium and the grilles of naturally anodised aluminium.
This article was first published in the December-January 2018 issue of Marine Business magazine.