Garmin launches compact autopilot for outboard boats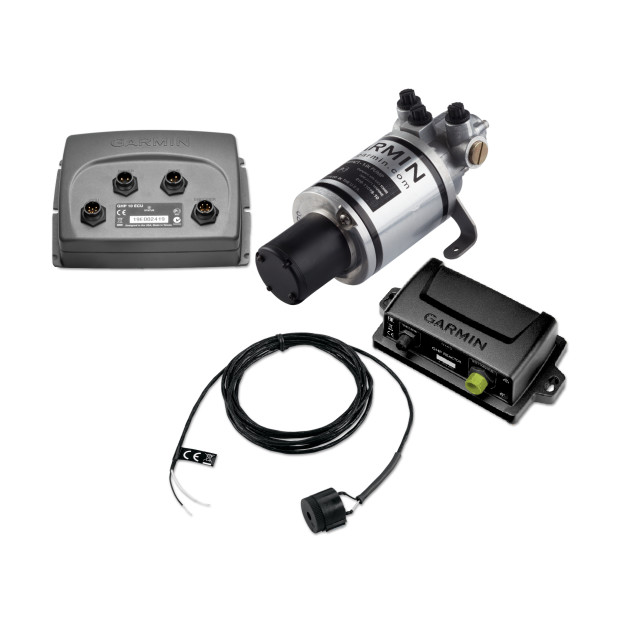 Compact autopilot system designed to integrate with Garmin electronics.
Garmin's GHP Compact Reactor Hydraulic Autopilot, the newest addition to its GHP autopilot series, is designed for use with outboard-powered boats up to around 9m in length.
Garmin says the GHP Compact Reactor is based on the same advanced solid-state 9-axis AHRS technology as other models in its award-winning Reactor series. There are three different configurations available, all using a 1L pump, enabling boaters to choose the features they need and how much they want to spend.
The starter pack version includes the core autopilot components needed to install and use alongside a compatible chartplotter, such as Garmin's echoMAP CHIRP combos and GPSMAP series. The next configuration is available with a GHC 20 Autopilot Control Unit, and the third option adds both the GHC 20 and the Garmin-patented Shadow Drive which allows users to disengage the autopilot with a turn of the wheel, allowing them to always remain in control of the vessel for any quick manoeuvering or safety procedures.
Fully integrated with compatible Garmin electronics, the Compact Reactor series can be controlled directly from the chartplotter. The autopilot can also be engaged to follow Garmin's Auto Guidance technology (when used with BlueChart g2 Vision charts), which eliminates the need to enter different waypoints to create a route. The user moves the cursor on the map to where they want to go and the chartplotter automatically plans the route from the vessel's current location, avoiding shallow water and other charted obstructions.
RRP from AU$1799.