Fusion adds speakers and all-weather sound panel
New releases include speakers, weather-proof sound panel and remote control unit.
Marine audio specialist, Fusion Entertainment, has released a raft of new products in the local market including new speaker ranges, a new weather-proof version of its Panel-Stereo and a new remote control option.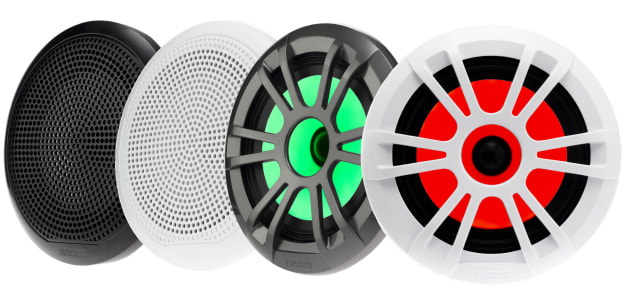 EL Series speakers
The EL Series shallow-mount marine speakers are available in two styles and feature LED lighting options, a durable construction and a range of accessory grille options. The compact basket design makes the speakers suitable for installation where mounting depth is limited.
The 80 Watt 6.5-inch sized speakers are available in two grille styles, Classic and Sports, have been specifically designed to provide cone protection while complementing the vessel look. Extra grilles are available to customise the speakers in four options: Sports White, Sports Grey, Classic White or Classic Black.
The Sports style speakers feature a multi-colour LED lighting option that allows users to choose from seven different colours while the translucent injection-moulded polypropylene cone ensures an even and bright LED illumination.
The EL Series is rated IP65 for water and dust ingress protection from the front face when correctly mounted. It also meets industry standards for UV and salt fog protection.
"We built the EL Series as a way for users to enhance any type of vessel, whether it features a modern or classic look," said Chris Baird, managing director of Fusion Entertainment. "The EL Series is also designed and engineered for the outdoors so users are not only getting the look and sound they want but they can be sure it will last for a long time no matter where you do your boating."
Signature Series speakers
The new 8.8-inch Signature Series wake tower speakers and component tweeter have been engineered for maximum sound output and dynamic range coupled with a modern aesthetic design.
The acoustic properties of the tower speakers have been specifically optimised for wake boat applications with a longer throw, greater cut through and precisely calculated enclosure parameters. The silk dome tweeter is designed to create a smooth upper frequency response and increased efficiency while the CURV cone technology with large diameter voice coil increases the power and efficiency of the speaker.
As an extra accessory, a component tweeter can be installed with both flush and surface mounting options, complementing the Signature Series speaker range onboard.
"Our Signature Series speakers delivers the ultimate in sound quality," said Baird. "The wake speaker and component tweeter are expertly engineered and designed with sound-impacting features so boaters can experience the cleanest sound possible while on the water.

XS Series speakers
The revamped XS Series speakers and subwoofer are designed to offer increased functionality, an aesthetic improvement and Fusion's highest sound quality for onboard audio reproduction.
Available in three sizes (4-, 6.5- and 7.7-inch), the speakers combine optimised drivers with separate tweeters to produce a full range of audio reproduction at all volume levels.
The 10-inch XS Series subwoofer, designed to add low frequencies to an audio system, can be installed in two different ways: traditionally wired through an amplifier, or via a 2.1 audio zone by connecting two speakers and a subwoofer directly to a Fusion multi-zone stereo with DSP without the need for an external amplifier.
The speakers and subwoofer are both rated IP65 for water and dust ingress protection, and meet industry standards for UV and salt fog protection. Each comes with a three-year warranty.
The new design features an innovative translucent cone to provide bright LED illumination on board in a range of colours.
"Keeping our new and legacy products up to date to reflect the latest in sound technology is what we do at Fusion," said Baird. "The XS Series now offers two design styles to match any boater's aesthetic while optimising sound quality across the boat.
"We want users to have flexibility with placement so they can have the best experience wherever they listen to music most on their vessel."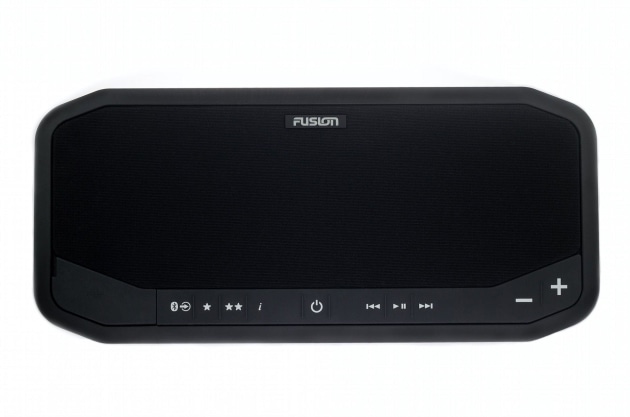 All-weather Panel-Stereo
Fusion has introduced a weather-proof version of all-in-one marine entertainment system – the Panel-Stereo Outdoor.
Purpose-built for outdoor installations in the marine environment, the Panel-Stereo combines all the elements required for audio reproduction - Class D amplification, Digital Signal Processing (DSP), dual 3-inch speakers, and a passive base radiator - all inside a single tuned enclosure.
Offering AM/FM, USB, AUX and Bluetooth streaming source options, and control via the FUSION-Link App and new ARX wireless remote, the Panel-Stereo allows boaters to enjoy the flexibility of audio control from anywhere in or on an vessel.
Requiring only 12V DC power, the Panel-Stereo meets the standards for IP65 water and dust resistance, and offers three mounting options to suit the requirements of any installation including being installed directly onto any flat surface with no mounting cut-out required. The low depth also makes it ideal for installation in shallow wall cavities where standard speakers will not fit using only a single cut-out.
"When we launched the Panel-Stereo in May last year it was very well received," said Baird. "We took the same top-quality components and compact form-factor and encased them in a weather-proof package.
"Now the incredibly versatile Panel-Stereo can be installed in outdoor and open-air environments adding even more options for our customers."
ARX70 ANT wireless remote
New from Fusion is the ARX70 ANT Wireless Stereo Remote giving users the freedom to control their Fusion ANT-enabled marine entertainment system from anywhere on the boat.
The ARX70 can interface with compatible Fusion stereos and act as a media controller for a single zone at one time, with the ability to cycle through all independent audio zones for global control. Multiple ARX remotes can be installed across the boat with one or more in each zone giving more control options on board than ever before.
"Small but mighty, the new Fusion ARX70 is extremely versatile, cost effective and makes listening to your favourite entertainment more convenient than ever before," said Baird. "Its compatibility with multiple ANT-enabled products, in both wet and dry zones, makes it the perfect partner for any Fusion audio entertainment system."
The compact, low profile, IPX7 water-resistant design combined with a one-year battery life enables the ARX70 to be installed wherever is most convenient without cutting holes, running wires or using tools. Easy to use, the rubberised tactile buttons ensure a non-slip grip, while the LED lights in the light-bar provide essential user feedback. It is available in white or black.
More information at fusionentertainment.com.