Full metal products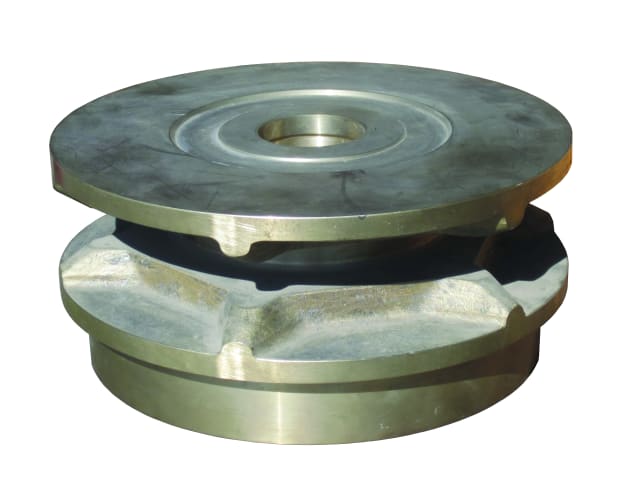 Check out some current deck hardware solutions for anchoring, winching, storing and more.
Queensland-based marine fittings manufacturer, P&W Marine Engineering, has over 56 years of casting experience through its in-house foundry, Fieldings Foundry. Here, it manufactures a range of marine cleats, bollards, deck hatches, chain gypsies and other deck hardware in aluminium or bronze.
For aluminium cast products, CC601 grade aluminium is commonly used for its light weight to strength ratio, anti-corrosive properties in the marine environment, and optional heat treatment processing, giving it additional strength and good machining properties.
Generally, bronze deckware is produced in leaded gunmetal (LG2) or aluminium bronze (AB2). Leaded gunmetal contains a high copper content alloyed with zinc, lead and tin, giving it ideal machining properties, resistance to corrosion and allowing the finished product to be polished or chrome plated.
Aluminium bronze also contains a high copper content, aluminium, nickel and iron, and is ideal for products that require high strength, superior anti-corrosion and wear resistance properties.
For marine use, P&W Marine Engineering ensures that the materials and methods used follow strict guidelines to guarantee the highest quality products.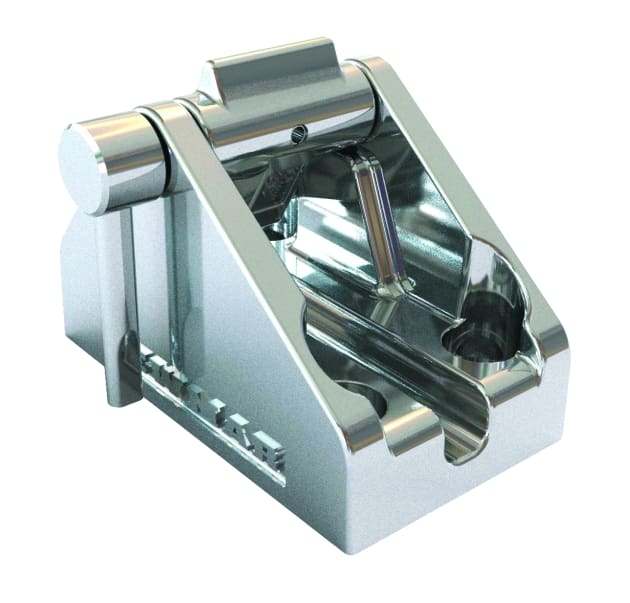 Take the load off your windlass
While some skippers will know it, others may not realise that while an anchor windlass is designed to raise and lower your anchor, it is not designed to hold your boat in place while anchored. The weight of what might be 10 tonnes of displacement pulling on a windlass designed to lift 1,200kg to 1,600kg can damage and wear the internal workings of even the strongest windlass. Windlass manuals describe how the rode needs to be cleated off to relieve the load on the windlass but what is the best way to do this?
Vessels with an all-chain rode can use a chain lock such as a Lewmar heavy duty 316 stainless steel model to suit 8mm chain (BLA 192152 - pictured below) or 10mm chain (BLA 192154). Available through local distributor BLA, there are other models to suit larger chain. BLA also offers Marine Town split bollards, some of which feature quick release pins to suit up to 13mm chain.
Another method is the use of a suitable strop of chain, rope or wire with a chain claw or hook on one end to attach to the chain. Bend the free end onto a cleat or bollard to release the tension on the windlass, allowing the strop to take the load.
When it comes to using a chain and rope rode and you are lying with the rope on the windlass, try putting a cleat or bollard near the windlass, close to lining up with the bow roller, and tie a rolling hitch to hold the rode. Bring the free end onto the cleat to take the load off the windlass.
To ensure your windlass has a long life and the reliability when you need to count on it, remember these tips when anchoring while using a windlass, particularly overnight or in rough conditions.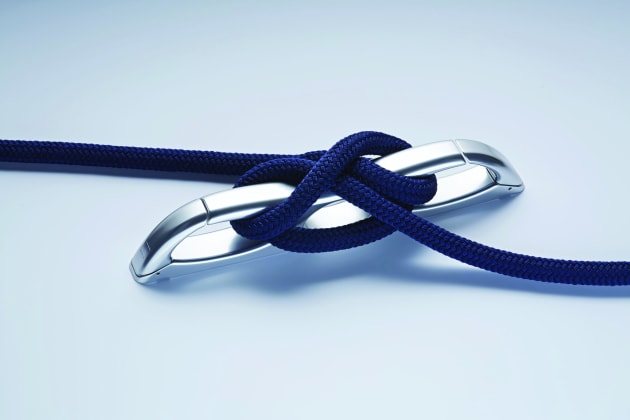 Nomen expands product line
NOMEN Products GmbH of Hamburg, Germany, has brought out a new 'full-metal' line of the CLIP-cleat. While previously the rotating clips have been manufactured from a synthetic material, they are now being made completely from metal while underlining the stylish shape of the cleat.
The CLIP-cleat is suitable for all kinds of boats and is particularly convenient on, for example, platforms or beach clubs where crew or guests are moving around at the same time as boats or tenders are moored.
This patented multi-function mooring cleat is designed as a combination of cleat and fairlead. By turning its clip ends, the CLIP-cleat always remains closed, no matter whether it is belayed or not. No lines can get caught nor can anyone be injured. Casting off is possible at all times.
NOMEN also offers custom built variations of its deck fittings.
DC Delta Style Anchor
The DC Delta Style Anchor is a hybrid anchor designed for fast setting and high holding power. The low centre of gravity and unique shape is designed to ensure that it always positions correctly and sets instantly.
It features a weighted tip, a hole for a retrieval line at the front and is designed to adapt naturally to a bow roller. The high tensile steel construction will hold in all types of weather.
Stressfree anchoring
South Australian manufacturer Stressfree Marine launched the latest evolution in its anchor winch range earlier this year, the result of its continuing investment in engineering research and development.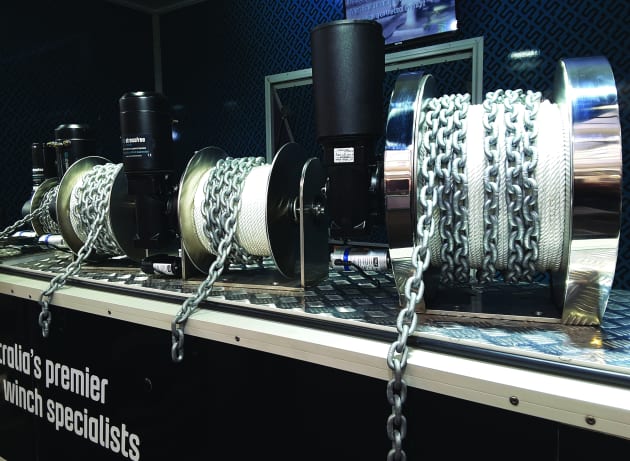 In the mid-1990s, when engineer and boating enthusiast Dean Forster conceived the idea of creating a faster and more accurate anchor winch, he was only thinking about one thing – catching more fish! He wanted a system that would allow him to release and retrieve his anchor much faster for quicker manoeuvrability. This led to the development of Stressfree Marine's standard drum anchor winch range, and the patented Freefall range featuring one-touch precision anchoring at five times the speed of standard winches.
In its most recent developments, Stressfree Marine has continued to explore ways to increase safety, durability and functionality. By increasing the size of the satin finish 316L marine grade stainless steel base plate from 6mm to 8mm, it has found a way to deliver a higher level of stability in unpredictable weather conditions.
The drive shaft has also been increased from 18mm to 25mm giving a higher torque gearbox, and the pivot bolt has been reengineered to deliver an extra 8mm of engagement. Using the Quick-50 series double anodised gearbox has also increased protection against corrosion and salt water exposure.
The latest version of the Stressfree anchor winch is now available to the customers in Australia and around the world, and is already enjoying a strong demand from dealers, boat builders and boat owners.
Stainless steel fold down cleat
This fold-down cleat is a simple solution to the age-old problem of excruciating toe stubs while moving around on deck. It is designed to provide an easier mounting option to the 'pop-up' style cleat which requires a large mounting hole to accommodate the 'pop-up' mechanism.
The high-polished low profile makes the cleat a stylish addition to any small or medium size vessel.
Award-winning winches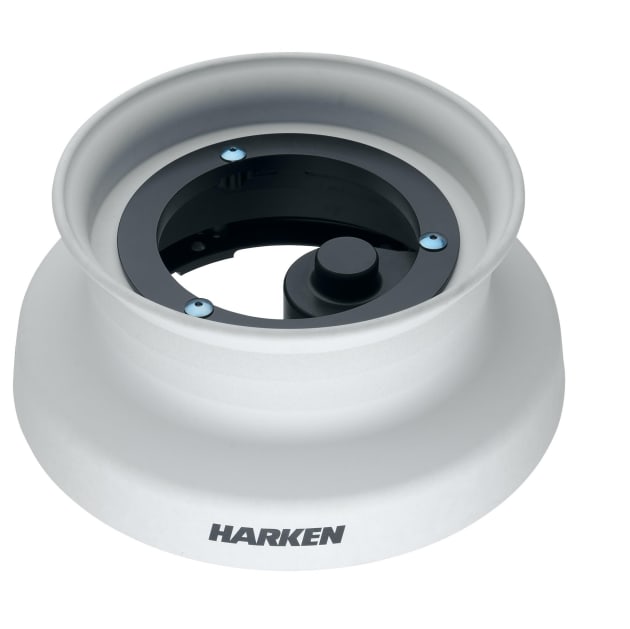 A recent winner of a DAME Design award at the METSTRADE show, the Harken Air winch is designed for trimming sails on AC foiling cats. It features interchangeable gearing sets that enable crew to choose the right mix of speed and power for the conditions, even on the water between races.
Featuring a white ceramic drum and hollow middle to reduce weight, the winches have seven interchangeable first-speed options and six second-speed options. A 200 mm drum ensures fewer wraps, fast trimming and faster easing, and there are both standard and counter-rotating versions for correct lead angles from either side of the catamaran.
Mooloolaba Pick anchor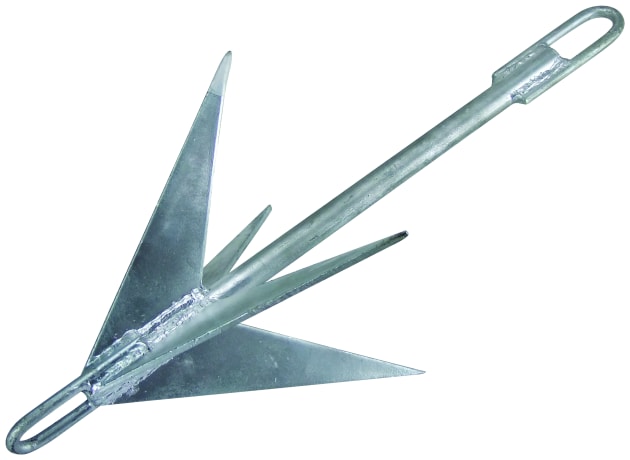 The Mooloolaba Pick has a unique approach to reef anchors utilising a reverse retrieval method for pulling up the anchor, making anchoring on reefs simple. The key is to rig the anchor correctly with the anchor chain attached to the retrieval eye located at the crown, then run the chain up the shaft and zip tie it to the traditional eye. The size of zip tie used will depend on ocean conditions.
When the time comes to retrieve the anchor, simply navigate the boat back to the anchor position and past it until the zip tie snaps. The pick can now be retrieved from the reef without hindrance.
Trip-saving pop-up lights
The Accon Marine Pop-Up navigation lights are designed to recess into the deck when not needed, thus preserving the crew from a potential tripping hazard or toe-stubbing while also maintaining the vessel's clean lines.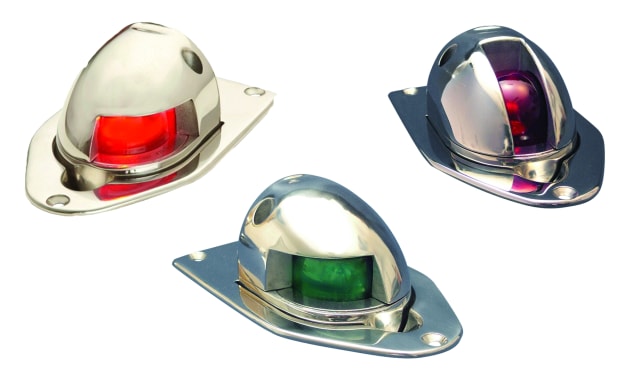 Made from marine-grade 316 stainless steel, the 205-M Stainless Port Light, 206-M Stainless Starboard Light and 207-M Stainless Side Lights each feature a fully retractable design that leaves the deck flush when out of use.
USCG-approved to one nautical mile, the lights meet the 72 Colregs protocol and are NMMA type-accepted. Each light uses a compact #78 bulb in a streamlined and stylish housing. The lights are supplied with a cut-out template and fasten into place with three #10 screws. Using Accon Marine's 204-M-C waterproofing cup prevents water intrusion below deck.
This article was first published in the December-January 2017 issue of Marine Business magazine.