FEATURE: Simrad stars on screen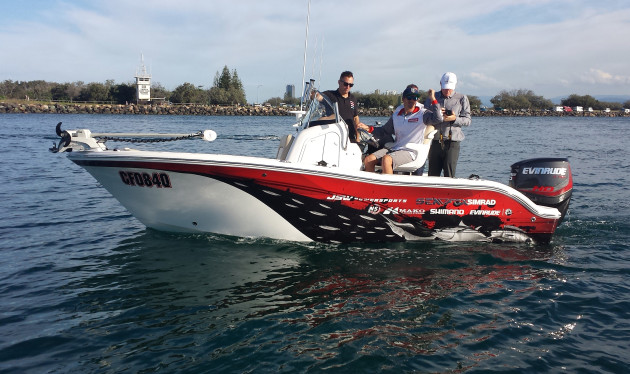 Navico gave an on-water demonstration of its latest Simrad electronics in action on the Gold Coast. Marine Business went along to watch.
Navico is the biggest player in the recreational marine electronics market thanks to its line-up of Lowrance, B&G and Simrad product ranges which each serve a different market segment. Lowrance is a favourite among fishos for its fish-finders and GPS chartplotters, B&G is a dominant player in the performance sailing world with its data instrumentation, while Simrad has a commercial fishing pedigree that now encompasses both recreational and commercial applications with a range of navigation systems, sonars, radios, autopilots and radars.
The Simrad systems on display on the Gold Coast highlighted three key areas of product development for the recreational market – three-dimensional sonar imaging, self-charting and solid state radar. The three products were StructureScan 3D sonar imaging, the GoFree charting software and app, and the HALO pulse compression radar. Although these products are already on the market and were not 'new' product launches, they are all fairly recent developments and still very much at the forefront of what's available on the market.
Going under water in 3D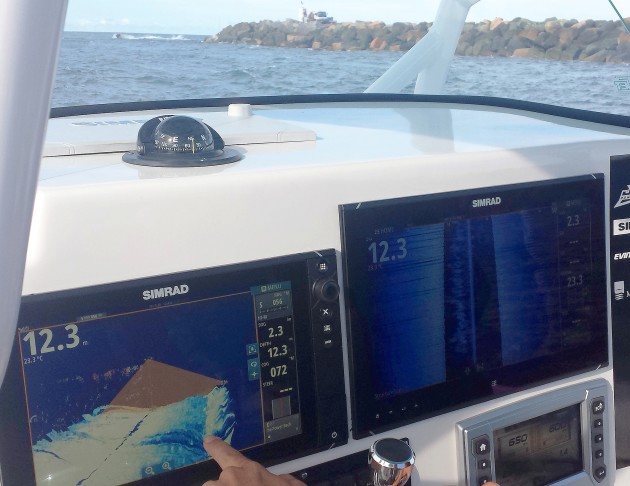 First up was a quick trip down to the Gold Coast Seaway to demonstrate StructureScan 3D imaging. Used in conjunction with Simrad's NSS and NSO evo2 navigational systems, StructureScan 3D delivers a detailed 180 degree 3D rendering of the sea floor either side of the vessel. It can operate up to a depth of 90 metres and as far as 180 metres to port and starboard.
On screen, it is easy to see the scanning beam below the vessel as shown in a contrasting colour. Users can use the touchscreen control to pan, tilt and rotate the 3D image to highlight a particular feature or to set a waypoint. The surface clarity and contrast settings can also be adjusted to eliminate interference from the bubble trail.
In this trial, the added benefit of three dimensional imaging was apparent compared with a two-dimensional DownScan image alongside it. The former gives an easy-to-read representation of the seabed, clearly showing any rocky outcrops or holes, even the occasional fish. The seabed of the Broadwater is fairly uniform and uninteresting but the StructureScan 3D still had no trouble picking up minimal features such as the underwater pipes running across the channel.
The same information was also clearly visible on the two dimensional sonar as well but it was noticeable how the features were more immediately obvious in 3D compared to 2D. For example, StructureScan 3D showed the detail of the seawall blocks and any gullies running in front of it which, in 2D, appeared as degrees of shading which need to be interpreted. That might not be a problem for boaters skilled at reading the 2D images but what the 3D does is add an extra layer of detail that can viewed from different angles –useful if you want to quickly locate, zoom in and target a specific feature or structure.
GoFree and map
The second excursion of the day provided an update on the GoFree software and the Insight Genesis custom mapping service. GoFree is a separate brand within Navico encompassing its digital products such as downloadable maps that are available across its other brands. Insight Genesis is the personal mapping tool that enables users to create their own custom contour maps while Insight Genesis Social Map is the collaborative version which takes all the data generated by Simrad, Lowrance and B&G users – described as the "world's largest survey fleet" - to create detailed, up-to-date contour charts of inland and coastal waters.
Navico has been using the social mapping in Australia for the past couple of years to create community maps for fishermen at inland waters such as Somerset, Wivenhoe and Lake St Clair. This demo compared the Broadwater GoFree map with the Navionics chart, highlighting the much greater contour detail displayed on the social-mapped version.
One advantage of social-mapping is that not only is the coverage constantly being expanded as users traverse different waters but the latest maps are always available, highlighting any new structures or sand banks that might have shifted. Users can adjust the contour depths and colour-code the contours however they like, or simply chose to highlight one contour if, for instance, there is a specific depth where they are fishing.
The latest addition to the GoFree line-up is the HOOKED app which enables fishos to quickly record and share details of their catches with information such as the location and route of each fishing trip along with details of the fish caught such as photos, size, weight and species of fish. This enables fishos to record details of their fishing trips over time to show where and when they were catching different species. This information can be overlain with the user's custom maps stored in Insight Genesis to further pinpoint productive stretches of water.
Another feature of HOOKED is the ability to create private fishing tournaments with groups of friends and then record the individual catches by the participants on specific dates and locations to see who wins bragging rights.
Feeling the pulse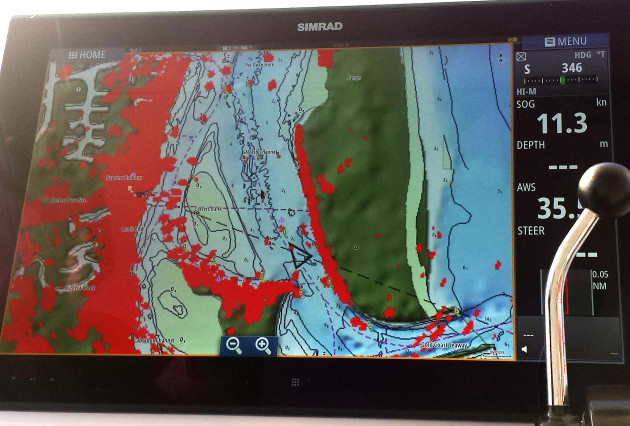 The final demo of the afternoon was of the HALO pulse compression radar launched last year. Pulse compression and solid-state technology are the latest advances in recreational boat radar, designed to deliver a mix of both short and long range accuracy (Navico claims a range from 6m to 72nm with HALO, depending on the size of the array) in a system that is compact, quick to start-up and safe to use in close proximity.
Cruising up and down the Broadwater, the radar was able to accurately pinpoint close-by, moving targets as well as distant objects using the dual range, split screen function – useful if you want to track nearby hazards as well as keep a long-range eye on the weather. There are different pre-set modes which can be selected depending on what you're targeting, such as Harbour mode to pick out traffic and solid structures in the marina, or Bird mode which is designed to help locate flocks of feeding birds out at sea.
MARPA tracking allows for up to 10 selected targets to be tracked for speed and direction. User-selected guard zones can be set up to warn of any objects encroaching within a specified distance or if you are drifting towards them - useful for instance whilst anchoring overnight.
The combination of three-dimensional sonar, custom contour mapping and pulse-compression radar certainly gives boaters access to more detailed information about what's happening on and below the water than has ever previously been seen in the recreational market. Such systems will not be for every boater – console space is always going to be a limiting factor for some users – but viewed together they offer an impressive demonstration of what today's screen technology can deliver.
This article was first published in the August-September 2016 issue of Marine Business magazine.