Dunbier adds new jet ski trailers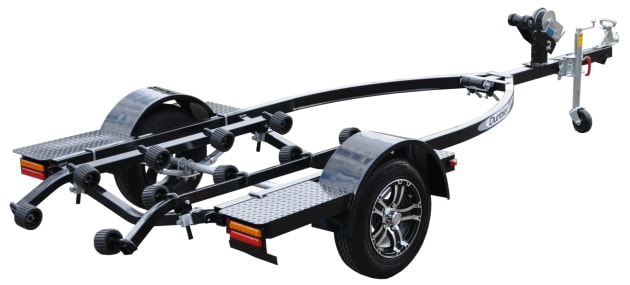 New alloy frame and powder coated trailers launched.
Local trailer manufacturer, Dunbier, has introduced two new trailer models for the jet-ski market.
The two models include a new addition to the Alloy series of trailers, called the Alloy Water-Toy trailer, and a new custom powder coated model called the Custom Sports Water-Toy trailer.
The alloy version features a solid alloy welded frame with low riding cross members including a 4" solid drawbar. It has the option of either pads or rollers.
The Custom Sports model features a full marine coat over the galvanised frame, guards, roller beds and walk boards. It comes with black rollers and wide checker plate steps.
Both models feature all new black alloy mag wheels with chrome caps and light truck radial tyres, as well as fully-sealed LED lights.