Check your battery by phone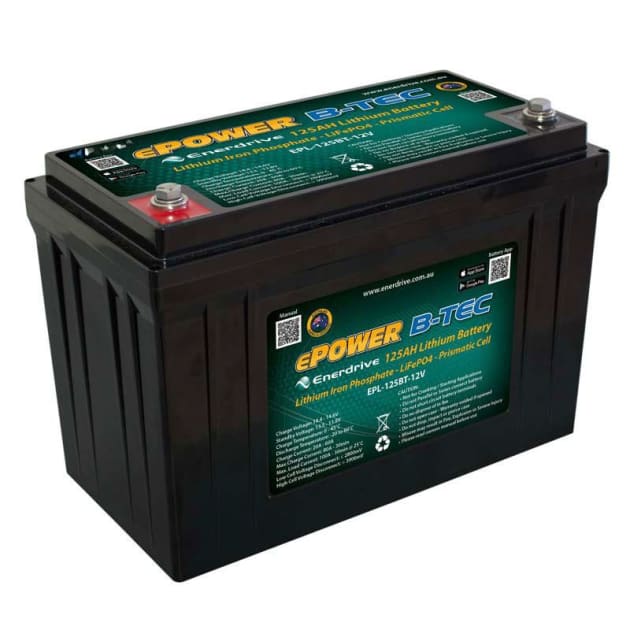 Enerdrive launches new lithium battery with smart phone monitoring.
Australian battery supplier Enerdrive has introduced a new ePOWER B-TEC LiFePO4 lithium battery with smart phone monitoring technology.
Available in 12v 100Ah and 125Ah capacities, Enerdrive says the new battery is designed for use in deep cycle applications where a single battery is required to meet the amp hour capacity.
The battery incorporates wireless monitoring technology then enables users to check on its condition via an app on a phone or tablet. Information that can be monitored includes battery capacity, voltage, current, state of charge (SOC) and state of health (SOH), individual cell voltage, battery temperature, cycles, alarms and event information.
The battery is also equipped with an internal LiFePO4 Battery Management System (BMS) that can monitor and optimise each prismatic cell within the battery during normal operation. It will protect the battery pack from over charge, over discharge, over temperature and short circuit. The BMS is designed to ensure safe and accurate operation of the battery.
According to Enerdrive, the ePOWER B-TEC battery provides 60% more usable power than its equivalent lead acid cousin while being nearly 50% lighter and 30% smaller. This makes it the ideal house battery for yachts, runabouts, half cabin, and small cruisers or any other application that requires the use of a single deep cycle battery that meets the amp hour capacity.
With over five years of researching, designing and testing lithium batteries and the associated charging systems, Enerdrive are at the forefront of lithium battery systems in Australia. With over 1,200 complete systems in operation Australia wide, Enerdrive is regarded as a leader in the field of lithium batteries and energy systems for mobile, marine and remote applications.