CEF impeller range grows bigger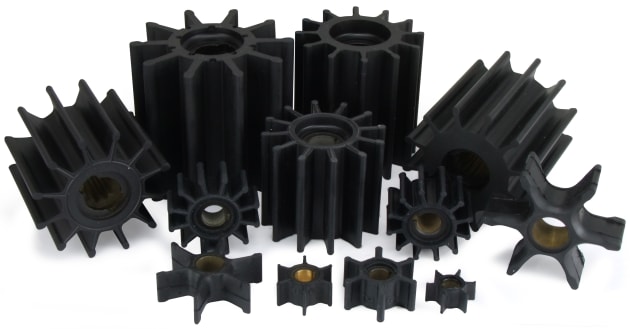 Large impellers now available for leading marine pumps.
Italian manufacturer CEF is expanding its range of impellers for the marine market including large impellers now available for Sherwood, Jabsco and Johnson pumps.
Impellers are a key component for inboard and outboard engines, pumps and power generators that are water cooled. CEF manufactures one of the widest ranges of impellers on the market and is a well-recognised brand in the marine spare parts field, distributed all over the world.
The company's careful selection of materials and advanced production technologies, combined with a scrupulous process of 'reverse engineering' focusing on high product reliability, ensures that its products are often of a higher quality than the OEM parts used.
Neoprene (CR) compounded impellers are the most widely used material for standard operating conditions and deliver the best performance. However, they are not suitable for highly contaminated water like blackwater or engine cooling pumps (for example oil, chemicals, etc).
In this case, Nitrile (NBR) rubber compounded impellers should be used in bilge pumps and engine cooling pumps in highly contaminated fresh or saltwater applications. Nitrile impellers may have a reduced flow performance and life span (of up to 20%) but the benefits of the compound being non-porous makes it suitable for contaminated water applications. Nitrile can also run dry without damaging the impeller and is often used in wakeboarding ballast tanks.
The largest range of CEF impellers, cooling pump kits, cutlass bearings, transmission and exhaust bellows is available from Sam Allen Wholesale.