BLA Trade Talk: Vesper Marine AIS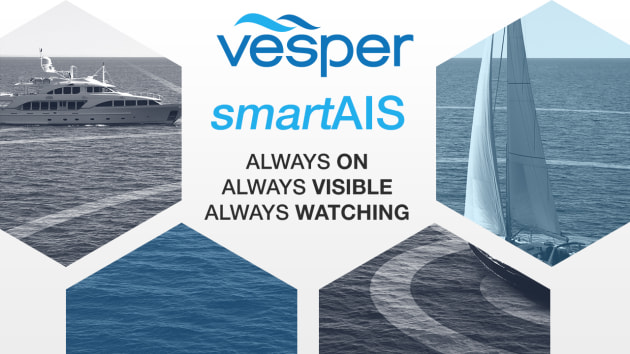 Discover smart, accurate AIS data and full network integration from Vesper Marine.
The Vesper Marine range of AIS safety products offers a powerful suite of exclusive technology and performance advantages including universal compatibility with all AIS-enabled multi-function displays (MFDs).
The Vesper Marine XB-6000 and XB-8000 transponders provide highly accurate AIS data to AIS enabled MFDs from Humminbird, Garmin, Raymarine, Furuno, Simrad, Lowrance and B&G. An industry-leading fast 5Hz GPS update rate (five times faster than others) provides greater detail and higher resolution plotting. The result is smooth tracking on chart plotters, MFDs and mobile apps.
The free WatchMate App gives users control of their AIS via Android and Apple devices. Functionality includes:
Set up and configure an AIS transponder
Configure a vessel's AIS static data (MMSI, Call Sign, Vessel Type,Vessel Size)
View AIS targets
Receive collision warning alarms
Manage collision prevention alarm profiles
Manage and receive MOB alarms
Control and view the Anchor Watch alarm
View own GPS position, course and speed
Check the operational status of the AIS transponder
Switch between Silent and Normal transmitting mode
Perform firmware upgrades as easily as you update any app on a smart device.
With Vesper Marine AIS only one GPS antenna is required onboard. Vesper Marine GPS carries position data plus the entire Global Navigation Satellite System (GNSS) suite required by chart plotters and MFDs.
Vesper Marine AIS transponders offer an incredibly long service life on board. The unique combination of durable hardware, robust software, market-leading electronic protection, and the Vesper Marine upgradable platform ensures that the user's AIS investment is maintained.
Other benefits of Vesper Marine technology include galvanically-isolated USB ports to protect the transponder against damage due to inadequately bonded or damaged circuits, and a built-in NMEA gateway that can sends instrument data over wifi to mobile app without the need to buy a separate N2K gateway product.
This also allows a wide variety of navigation apps on mobile devices to send data back to the N2K network to create waypoints and routes and control the auto-pilot so that users can steer or adjust the auto-pilot directly on their iPad, smartphone or tablet.
Jeremy Singleton from Vesper Marine was the Sydney International Boat Show to outline some of the functionality of Vesper Marine technology.
Sponsored content