BLA Trade Talk: Tuning your AutoChart Live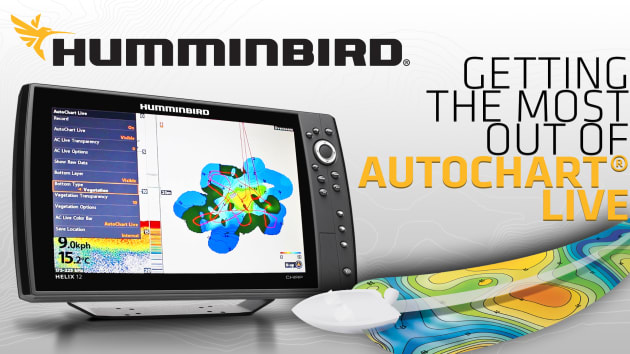 VIDEO: The future of digital charting has arrived.
Create richly detailed maps of contour changes, reefs, humps and wrecks in real time with Humminbird AutoChart Live, a free feature only available with the SOLIX Series and all GPS-equipped HELIX Series models.
Map the water as you drive your vessel, with eight hours of built-in recording time. Once your map is live, view it with vegetation, bottom hardness and depth contours—or use it with i-Pilot Link. No added fees. No need to upload your data for the world to see.
"Quite often what we find is even if we have a mapping card, in a lot of areas there is very little detail. That is where AutoChart Live comes in," advises Shaun Clancy, Humminbird product manager.
"Different colours represent different depths, and we can tune and refine that for the depths that we're currently looking for," says Clancy. "One of the great features is that you can set a Depth Highlight if you've identified fish are holding at a certain depth, or if you are trolling lures that are for a certain depth. You can tune the Depth Highlight to suit the type of fishing you're doing and target the fish better!
"The best thing is it's your information, you do the hard work, and it's yours to share with mates, or just keep for yourself!" exclaims Clancy.
Shaun Clancy demonstrates how to tune AutoChart Live and use it to its full potential.
Sponsored content