BLA Trade Talk: SOLIX Series and i-Pilot Link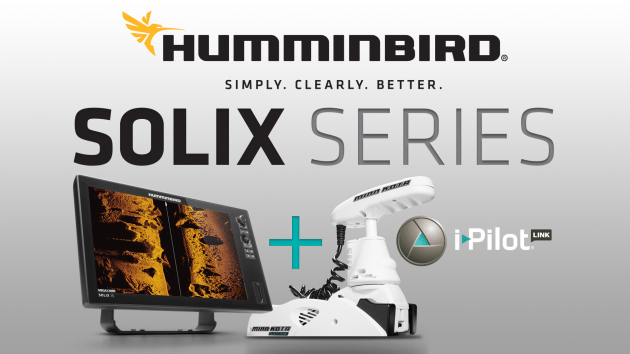 Humminbird SOLIX and Minn Kota i-Pilot Link: they communicate, you dominate.
The new Humminbird SOLIX Series combines 12" and 15" displays with Cross Touch Interface, MEGA Imaging, CHIRP Digital Sonar, AUTOCHART Live with vegetation and bottom hardness mapping, Bluetooth connectivity and i-Pilot Link navigation.
One of the key technologies that gives anglers greater control is the Minn Kota i-Pilot Link navigation.
i-Pilot Link allows your Minn Kota and Humminbird to communicate with each other to change the way you fish. With Link, you can take command of your motor from the wireless remote or your Humminbird. And once you do, the possibilities are endless: lock onto spots, record and retrace paths, follow depth contours, and more. Redesigned with new features and a customisable touchscreen remote, it's the ultimate GPS trolling system.
"One of the features I love with the new SOLIX is the ability to control your motor - in this case the auto stow/deploy Ulterra – from the SOLIX screen," advises Shaun Clancy, Humminbird Product Manager.
"I particularly love the added feature of being able to use the dial on the SOLIX, as a steering wheel! It is so easy to change direction and function," exclaims Clancy.
SOLIX Features:
Available in 12" and 15"
i-Pilot Link navigation
Mega Imaging models
Cross Touch interface
Bluetooth Capability
Plug-and-fish networking with Ethernet
For more information, contact your local BLA Territory Manager.
Shaun Clancy demonstrates the SOLIX and i-Pilot Link integration.
Sponsored content