BLA Trade Talk: SeaStar Jackplates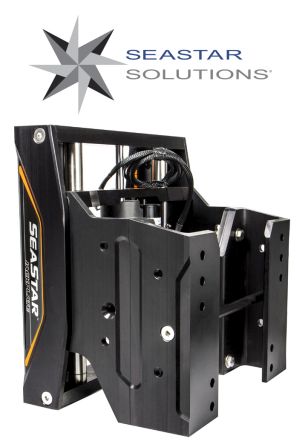 LATEST SeaStar hydraulic jackplates from BLA offer heavy duty lifting of outboard engines.
The SeaStar range of manual, hydraulic and heavy duty hydraulic jackplates are one of the sleekest and most durable engine jackplates available.
This essential performance accessory allows for higher speeds, gains in fuel economy and the ability to run in shallow water. Available in 4, 6, 8, 10 and 12 inch setbacks, they feature bold styling that is redefining the look of jackplates.
The new heavy duty models feature an upgraded, high-speed hydraulic actuator. The frames are capable of handling engines up to 350hp that weigh up to 356kg.
"SeaStar Jackplates provide a lift of 6" in 8 seconds, which is one of the quickest on the market," advises Michael Sharp, brand manager.
"They suit bass boats, and high performance race and ski boats. Another good practical application is for use on moored boats. Often you can't keep your motors out of the water but with SeaStar Jackplates you can lift your motor up and clear of the water, giving you less corrosion," adds Sharp.
Sponsored content