BLA Trade Talk: New Lewmar Retractable Thruster range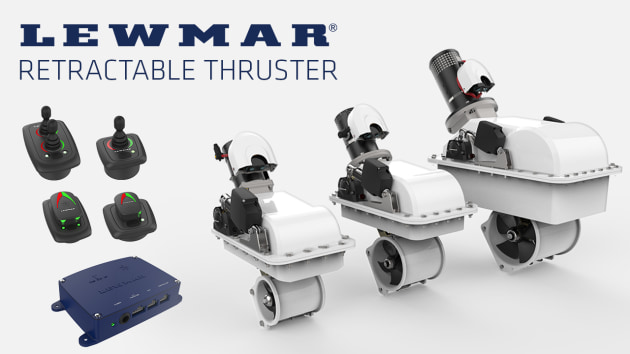 New retractable thrusters combine easy installation with proven performance.
Lewmar has launched a new range of retractable thrusters developed in conjunction with boat owners and their needs.
Particular care and attention to the detail of the installation process was taken into consideration while retaining the proven components from the Lewmar TT thruster range. Lewmar thrusters achieve even thrust in both directions for maximum control and manoeuvrability.
All Lewmar thrusters have been extensively tested, resulting in a smooth, efficient and quiet operation.
Features:
The unique 'low pivot' mechanism minimises internal space requirements yet permits maximum tunnel immersion
Flange mounting as standard for easy installation. The universal flange can be adjusted to any given hull shape and the captive nut allows effortless fastening from the top of the unit only
Robust GRP construction
140, 185 and 250mm tunnel diameters available
Auto-retract function five minutes after use
Dual propellers on 185 and 250 models as standard
140 Retractable Thruster
2.0kw - 2.2kw motor
12v options available
Electric
IP Available
185 Retractable Thruster
3.0kw - 6.0kw motor sizes
12v or 24v options available
Electric or hydraulic
IP available on electric
250 Retractable Thruster
8.0kw motor size
24v electric or hydraulic
Dual hub
Contact your BLA Territory Manager for more information.
Bob Jarvis demonstrates Lewmar's new Rectractable Thruster.
Sponsored content