BLA Trade Talk: new 2018 speakers by Clarion Marine Systems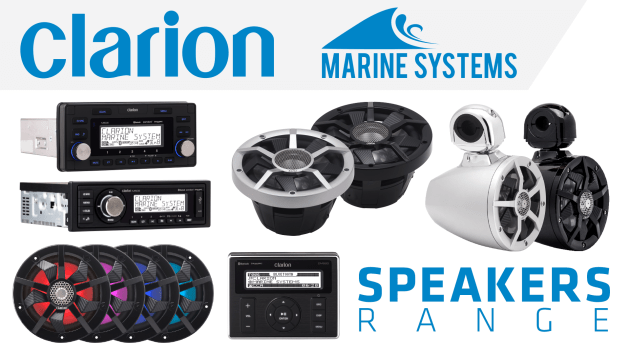 A bold new look! All new extreme performance CM-Series marine speakers and subwoofers with RGB illumination.
BLA has launched the all-new CM-series line of high-performance, extreme-duty marine-grade speakers, subwoofers and tower speakers. Backed by Clarion's long-time leadership in the marine audio space, the new CM-Series continues Clarion's legacy of producing top-tier marine-grade audio components that boast unrelenting resilience to the elements, exciting aesthetic design, and industry-leading features without compromising on delivering the benchmark sound quality Clarion is known for.
With every model in the product line delivering impressive RMS power handling capabilities, the CM-Series is specifically engineered to lead the class in power, performance, and affordability. In addition, the entire line was designed to enhance the aesthetics of today's boats by featuring a sophisticated yet protective carbon fibre-style interior grill with integrated RGB LED illumination. In addition, CM-series speakers (excluding tower speakers) come with both silver and black outer grills in the box, offering boaters two options to match their boat's colour scheme.
As with all Clarion marine-grade audio systems and components, the new CM-Series was engineered for extreme durability. All speakers in the line feature a high-impact ASA plastic woofer basket that will not rust or corrode and will protect the woofer from being crushed or dented if accidentally hit from behind by boating gear. In addition, all infinite baffle CM-series speakers feature secure, waterproof speaker and RGB illumination wire connections on the basket. This ensures that wires will never come loose from the extreme forces that can be experienced when boating and that all connections to the speaker remain protected from water intrusion and corrosive elements.
"The CM-Series is the most powerful, durable and feature-rich line of purpose-built marine-grade speakers that Clarion have created," said David Wood, product director. "Much like a fully-equipped yacht, cruiser, sail, or power boat, the CM-series line of extreme performance speakers boast the perfect blend of uncompromised performance, quality and style.
"While Clarion have spent a tremendous amount of time engineering and testing the CM-series to ensure all models in the line perform and can withstand extreme marine use, they have also paid a lot of attention to the aesthetic design of the line. Thanks to the carbon fibre-style look and the novel nautical propeller grill design, included outer grill shells in both silver and black, and RGB LED cone illumination, we are certain that the all-new CM-series will stimulate boaties' eyes as well as their ears."
The CM Series is comprises full-range tower speakers, infinite baffle coaxial speakers and powerful dual voice coil subwoofers. Models include:
CM1623RL: 6.5-inch coaxial speakers; 200 watts max/80 watts RMS
CM2513WL: 10-inch dual voice coil subwoofer; 800 watts max/250 watts RMS
CM3013WL: 12-inch dual voice coil subwoofer; 1000 watts max/300 watts RMS
CM1624TS: 6.5-inch coaxial wake tower speakers (silver); 200 watts max/80 watts RMS
CM1624TB: 6.5-inch coaxial wake tower speakers (black); 200 watts max/80 watts RMS
Recognised by the industry for their benchmark durability and reliability, every Clarion marine and powersports audio system, speaker, amplifier and accessory endures a battery of character defining tests. By replicating prolonged UV exposure, simulating the humid saltwater environment and rigorously testing for thermal shock to imitate quick changes in temperature, Clarion ensures that the CM-Series line can withstand the rigours of the harshest environments season after season.
Patrick Serrato, director of product planning at Clarion Marine Systems, outlines the latest extreme performance marine grade speakers.
Sponsored content