BLA Trade Talk: King StarBoard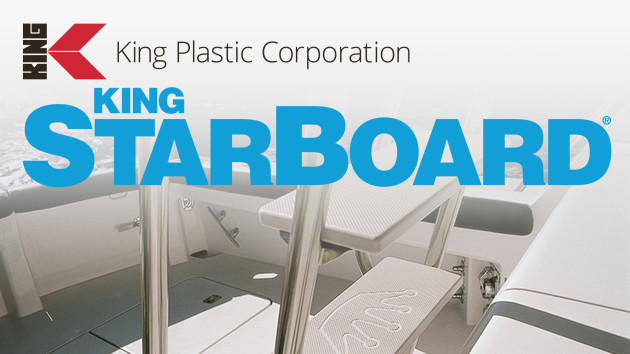 The industry standard for marine building material.
King StarBoard is the world's first marine grade polymer building material and still the industry standard. Nothing on the water retains its original colour and structural integrity longer. Virtually anything you can build from wood or ordinary plastic can be built better with King StarBoard.
It simply cannot rot, swell, splinter or delaminate and it is virtually maintenance free. King StarBoard's unique polymer formulas are environmentally stabilised to withstand the harshest marine conditions, delivering a previously unattainable level of resistance to the elements.
Features:
Does not rot, swell, splinter or delaminate
Extremely flat and long sheets with no grain
Edges finish cleanly and smoothly, and forms easily for smooth curves
Low maintenance finish
Handsome matte finish on both sides to hide scuffs and scratches that would show on glossy textured sheets or acrylics
Cuts and machines with standard wood working tools
Example Applications:
Exterior Deck: Step boxes, berley boards, rod holders, consoles, tray tables, anchor chocks, bow pulpits, decking, fender mounts, deck boxes, antenna holders, storage hatch, step treads (ladders), step boards (gunwales), chairs and upholstery backs, swim platforms.
Interior Decks: Electronics mountings, sofas, sink covers, glassware racks, cabinets, shower grates, bunks, shampoo racks, stairs, hatches, doors, cabin moulding, fire extinguisher boxes, upholstery backing
Engine Room: Grates, hatches, equipment decks, mounting platforms, mounting blocks/surfaces, centre bilge grate, walk on surfaces, signage
Michael Fabbri introduces King StarBoard marine building material.
Sponsored content