BLA Trade Talk: Johnson Pumps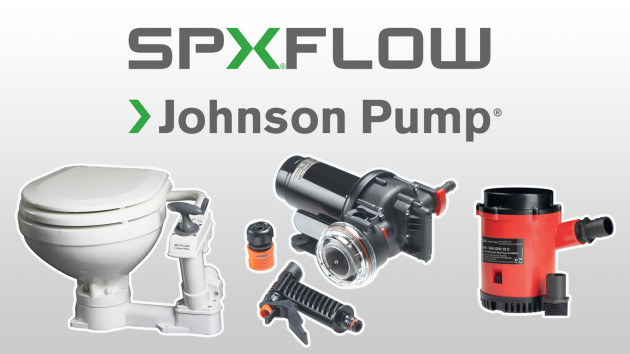 The SPX range of world-leading marine pumps and accessories.
No matter whether you are an experienced boater looking for a replacement pump or a manufacturer specifying pumps for your marine application, SPX are prepared to provide you with the support you need. And no matter where you work or live, access to their products, services, spare parts and support is never far away. In fact, you will find SPX's Johnson Pump marine brand represented in every major industrial country of the world today and in more than 60 nations altogether.
Here's a summary of the extensive range available:
Water pressure systems and wash down pumps
Quiet and pulsation-free even at low speeds, the Aqua Jet five chamber diaphragm pump provides the perfect water pressure or deck wash solution for both small and medium sized leisure and commercial boats. Efficient and compact, Aqua Jet pumps are particularly suitable where low amperage and sound levels in relation to water flow are placed at a premium - such as in shower and galley applications.
Heavy duty submersible bilge pumps
SPX's Johnson Pump marine brand submersible pumps can handle most of the bilge pump applications. Heavy duty motors with stainless steel shaft and tough thermoplastic bodies provide for a long pump life. With an automatic switch installed, the pump automatically starts when there is water in the bilge and shuts off when it is dry.
FIP DC pumps for bilge, deckwash and refuelling
With their high level of flexibility, these pumps are ideally suited for use in boats as bilge and deckwash pumps, fresh water pumps, and refuelling pumps for oil and diesel. These pumps may be combined with a vacuum switch for automatic operation. Capacities vary from 15 to 55 litres per minute, allowing the proper matching of the pump to the application. All motors are heavy duty to provide long service life even under heavy use.
Impeller pumps
Flexible impeller pumps provide an efficient solution to most raw water pumping needs. The pumps are self-priming and can pass fairly large solids without clogging or damaging the pumps. Designed for a number of applications on board.
Radial blowers and marine water heaters
AirV extra heavy duty radial blowers for marine engine compartment ventilation prior to start up. The blowers can be used for air intake or extraction in bilges, galleys, accommodation and other compartments. AquaH is an innovative series of AISI 316 grade stainless steel water heaters, with a storage capacity of 22 up to 80 litres. Dual heating as standard - electrical heating and indirect heating based on a second heat source, for example the cooling system from the marine engine or generator set.
Waste water handling and marine toilets
From a name you can trust, the AquaT toilet provides the comfort and convenience of a land-based lavatory at sea — a marine toilet that flushes as quietly as a toilet on land. In combination with the Viking Power 16 or 32 and a grey water tank you will have a complete waste water handling system.
Philip Anderson outlines the extensive Johnson Pump range.
Sponsored content