BLA Trade Talk: Humminbird Solix 10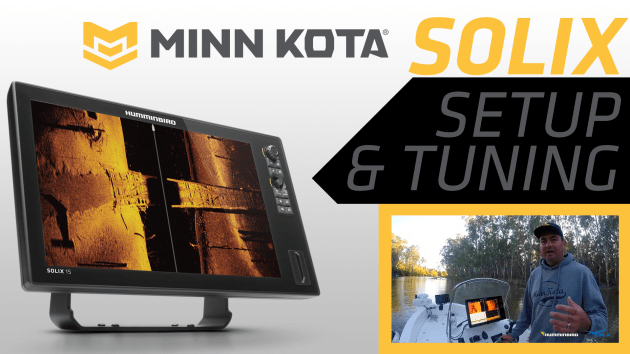 How to set-up and tune your Humminbird Solix Series model.
The award-winning Humminbird Solix Series now includes a model with a 10.1" screen, and exclusive features such as Cross Touch Interface, Mega Imaging, CHIRP Digital Sonar, Autochart Live, Bluetooth connectivity and i-Pilot Link compatibility
When Humminbird introduced the Solix Series it redefined sonar by integrating its most revolutionary technological features into a new line of powerful, easy-to-use fish finders. For 2018 Humminbird has expanded the series with the SolixX 10. Its 10.1" screen makes it ideal for use at the bow or on more compact console settings. The Solix 10 helps anglers find and catch more fish with the most advanced sonar, image clarity and mapping capabilities in its class.
Crystal-clear images
The Solix 10 comes in two models: one featuring Humminbird's exclusive Mega Imaging with GPS and CHIRP digital sonar, and another with GPS and CHIRP digital sonar only. Humminbird's ultra-clear Mega Imaging is the first Down and Side Imaging technology to enter the megahertz range with performance that's nearly three times greater than traditional 455 kHz frequencies. It results in the clearest, sharpest on-screen images ever seen.
Anglers can choose Mega Side Imaging for an incredible view to the left and right of their boat, while Mega Down Imaging gives crystal clear pictures of what is beneath the boat. Both carry a range that covers the most popular fishing depths.
"Fish, rocks and stumps almost look like photographs, while man-made structures like shipwrecks or sunken bridges offer up Mega imagery down to individual beams," explains Humminbird product manager Shaun Clancy. "After people see it, they just can't believe it."
Mega Imaging works in conjunction with CHIRP digital sonar which fires more pulses than traditional transducers – and more pulses mean more information, improved target separation and superior image clarity at greater depths.
Customisable screen technology
The Solix 10 comes standard with Humminbird's Cross Touch Interface, which allows anglers to operate the fish finder via touchscreen or with the touchpad. Users can customise the screen with up to four independent viewing panes to simultaneously get the Down Imaging, Side Imaging and GPS mapping information they need – at a glance. Individual panes can be zoomed in/out, or moved to different screen locations based on an angler's preference or the fishing situation.
Another standard Solix 10 feature is Autochart Live. This exclusive Humminbird technology maps and saves depth contours, bottom hardness and vegetation data on any body of water. Fish relate to depths, weed lines and transition points in bottom type – for example where a soft, muddy bottom transitions to firm sand or rock. By collecting all that data on an Autochart Live map, Humminbird helps anglers find the "spot on the spot" like never before.
Autochart Live is also compatible with i-Pilot Link from Minn Kota for the utmost in boat control and fishing success. With the fish finder and trolling motor communicating, an angler can tell their Minn Kota trolling motor to 'follow' a specific Autochart Live contour at a set speed, and with the press of a button the boat will automatically follow the exact path. Without touching the trolling motor controls, anglers can stay on a weedline, depth or bottom hardness contour to keep their bait in active water at all times.
The new units are also fully compatible with Navionics Gold.
Bluetooth connectivity
Bluetooth is built into every Solix 10, allowing anglers to sync their smartphones to the fish finder and view text messages, missed calls and signal strength right on the Solix display. It creates a flawless on-board network of electronics and connectivity.
For plug-and-fish networking, high-speed ethernet provides easy connections to Humminbird 360 Imaging, Minn Kota i-Pilot Link, Humminbird CHIRP radar, and additional Solix or select Helix units.
Shaun Clancy shows how to do a basic set-up and tune of the Humminbird Solix Mega unit.
Sponsored content