BLA Trade Talk: Fishmaster T-Tops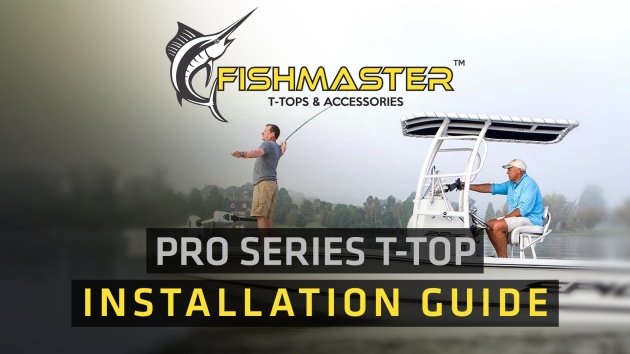 Designed for fishing enthusiasts, Fishmaster T-Tops are now available through BLA.
BLA has added Fishmaster T-Tops and accessories to their stable of world-renowned brands.
Fishmaster was created to provide innovative and affordable products to fellow fishing addicts. It began in the Spring of 2005 as a team of seasoned engineers who had designed the most popular wakeboard tower set out to build the first universal T-Top that could fold for fixed bridges and storage. This quickly grew to a team including other engineers, professional fishermen and boat dealers providing input from every perspective - installation, ownership, design, structural analysis and manufacturing. The team had one common goal - create a great T-Top and make it affordable.
Fishmaster then set their sights on providing a complete line of accessories for the Fishmaster T-Top including swivel rod holders, innovative soft goods storage products and many others.
The Fishmaster T-Top range includes the original Folding T-Top and the Pro Series T-Top
Pro Series Features:
Available in bone white powder coating for a factory-appearance.
Industry-leading weather protection - more than 3.2m2 of coverage featuring Sunbrella fabric for years of optimum weather protection and comfort.
Largest T-Top tubing in the industry at 57mm using aviation grade 6061 T6 schedule 40 aluminium for optimum strength-to-weight ratio.
Stylish patent-pending design includes integral grab handles and lateral support bars that provide strength without interfering with the side doors of most centre console models.
T-Top folds without tools for dry stack or garage storage, trailering and low bridge or tree clearance.
Installation package includes standoffs standard that affix to the console to maximise stability.
Sides adjust from 60cm to 127cm wide to fit virtually any centre console model.
Check out how to install the Fishmaster Pro Series T-Top.
Sponsored content