BLA Trade Talk: Clarion Marine 2018 digital source systems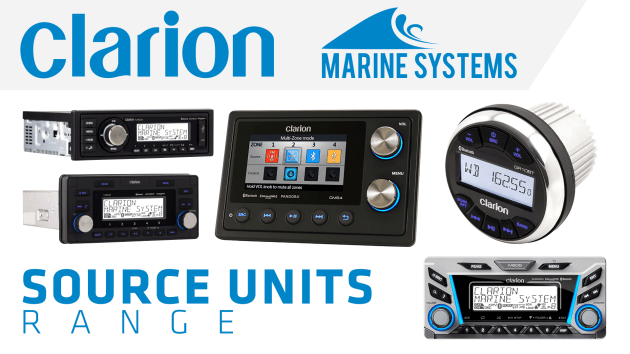 Rich in features and ultra-rugged, the latest 2018 line-up of source units from Clarion Marine.
Clarion Marine Systems has launched three new ultra-rugged, feature-rich multimedia source systems, specifically designed for marine applications.
Clarion's powerful new CMS20, M608 and M508 multimedia source units are stylishly designed with an upscale look and feel, are packed full of connectivity options, and have been ruggedly engineered to endure years of marine use without ever skipping a beat. All three new models offer enhanced NMEA 2000 support for control of the source units' features from a boat's onboard multi-function display (MFD).
"The interiors of many modern boats are stylishly designed and lavishly appointed, much like a flagship luxury car. Similarly, boaters demand that the marine audio systems in their boats deliver functionality, features, and great audio quality like those found in premium cars," said David Wood, product director.
"Our new marine audio systems are designed to address this shift. From their brushed black metal finish and machined metal knob designs to their meticulously engineered ergonomics and tactile feedback, everything about the form and function of these new products exudes quality and refinement.
"Adding in Clarion's industry-leading technologies and features, unrelenting resilience to marine use, and the ability for the systems to be controlled from a boat's touchscreen MFD display, and you have products that deliver upscale, tailor-made experiences to those who design and build boats, as well as those who purchase and enjoy them."
CMS20
The CMS20 is an IPX6-rated digital media powerhouse designed specifically for marine and powersports applications. The mechless two-piece system includes a compact black box for installation flexibility and a weather protected controller. The controller's innovative backlit dot matrix LCD display provides users with source and track information at a glance, and can be configured to show two, three or four lines of text based on viewing preference.
The new CMS20 utilises a 32-bit micro controller paired together with a 4.1 channel audio processor to deliver high-end performance and top quality sound. It is also equipped with six pre-amp outputs and features a powerful built-in amplifier that continuously monitors the system to maintain low distortion levels and optimise sound quality. Connectivity options include AM/FM/WB tuner, Bluetooth aptX, AUX-in, and USB for music stored on flash drives or smartphones and SiriusXM.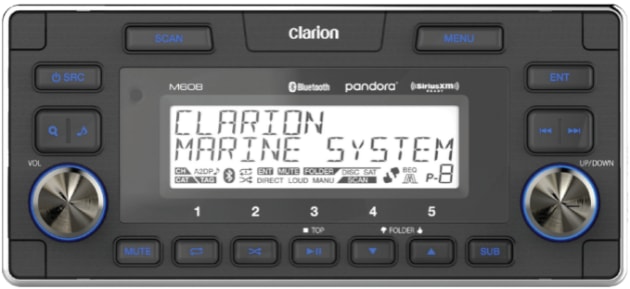 M608
The M608 is a stylish, feature-rich, IP65-rated multimedia source unit purposefully built to endure the perils of the marine environment. Its single DIN chassis easily installs in most pre-existing radio openings, while its oversized face provides easier control when bouncing through choppy waters. The large, white LED backlit LCD display offers excellent contrast and is easy to read.
The unit's four-zone volume control makes it possible to adjust the volume level in up to four independent audio zones on the same vessel. This allows boaters to enjoy listening to the same source in the cabin, in the cockpit and on the deck with the freedom to adjust volume of specific zones based on their preferences. Connectivity options include, Global AM/FM/WB tuner, Bluetooth aptX, AUX-in, and USB for music stored on flash drives, iPod or iPad, and SiriusXM. In addition to having a powerful 200-watt internal amp, the M608 features eight pre-amp outputs for incredible system expandability.

M508
The M508 is Clarion's new single-DIN marine-grade multimedia source unit that boasts robust connectivity features and legendary Clarion sound quality. Its single DIN chassis and face make it an excellent replacement system for smaller or older boats, while its upscale design fits right in with today's highly stylised boat consoles and cabins. The large, white LED backlit LCD display is easy to read and offers great visibility.
Setting it apart from competing marine systems, the M508 features two-zone volume control, making it possible for the captain and passengers to enjoy the same audio source at different volumes. Connectivity options include Global AM/FM/WB tuner, Bluetooth aptX, AUX-in, and USB for music stored on flash drives, iPod or iPad, and SiriusXM. With AUX input and USB connectors right on the front of the unit, it's extremely easy to hook up an external audio source. The system's 180-watt internal amp offers more than enough power for most boats while the unit also offers six-channel preamp outputs for vast system expandability.
Recognised by the industry for their benchmark durability and reliability, every Clarion marine system and accessory endures numerous character defining tests. By replicating prolonged UV exposure, simulating the humid saltwater environment and rigorously testing for thermal shock to imitate quick changes in temperature, Clarion ensures that its marine line-up can withstand the rigours of the harshest environments season after season.
Patrick Serrato, director of product planning at Clarion Marine Systems, outlines the latest multimedia source units.
Sponsored content