Wooden boats sail on despite fires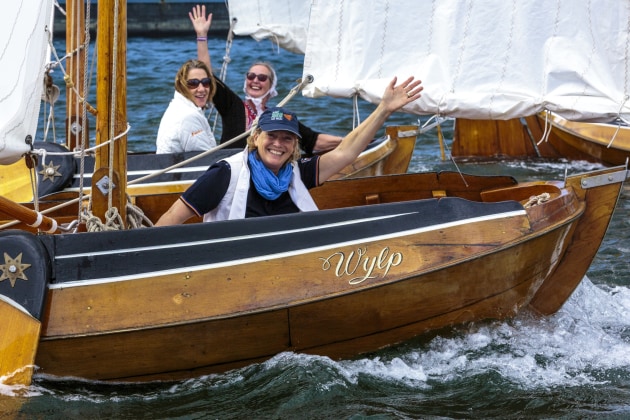 Hobart's Australian Wooden Boat Festival is not impacted by recent bush fires.
Organisers of the 2019 MyState Bank Australian Wooden Boat Festival, which opens this week on Friday, 8 February, have reassured prospective visitors and exhibitors that the event will be proceeding as planned, despite the recent wave of bush fires to hit the island in recent weeks.
"The recent bush fires in southern Tasmania have had a limited effect on the festival," said the organisers in a statement. "Some town evacuations meant that the visiting American team building two Herreshoff 12.5 boats at the Franklin Wooden Boat Centre had to 'abandon ship' for a few days. The township of Franklin was on high alert and emergency services needed uncluttered road access to the fires.
"The boat builders were given permission by emergency services to move the two boats they have been working on for weeks, and retrieve tools, equipment and materials that will be on show at the festival.
"Huge thanks to the SES, Tasmania Fire Service and Tasmania Police for making this possible, while seeing to their primary objective - protecting the people and infrastructure of the Huon Valley and so many other places around Tasmania.
"Thanks also to Muir's Boatyard and the Wooden Boat Guild for making room for the visitors at such short notice. We live in a community of everyday heroes!"
The free event typically attracts more than 200,000 visitors over four-days, presenting displays of more than 100 modern and classic wooden vessels as well as accompanying events.
Currently en route to Hobart, the tall ships One and All, Soren Larsen and James Craig have already departed Adelaide and Sydney respectively and will be joined at the festival by other ships including the Young Endeavour, Hurrica V, Windeward Bound, Lady Nelson, HM Bark Endeavour, Julie Burgess, Rhona H for the opening Parade of Sail.
The Royal Australian Navy's HMAS Choules is also on her way, carrying the feature vessel Mistral II on her deck.
This year there will also be a special focus on US wooden boats with around 35 US shipwrights, presenters and craftspeople making the trip and bringing with them three 40-foot containers of classic wooden boats to display.
The festival is also an increasingly significant event for many local marine businesses and organisations with more than 80 exhibitors expected to take part in the Maritime Marketplace.
For more information, visit the Australian Wooden Boat Festival website.