Winch test video sparks war of words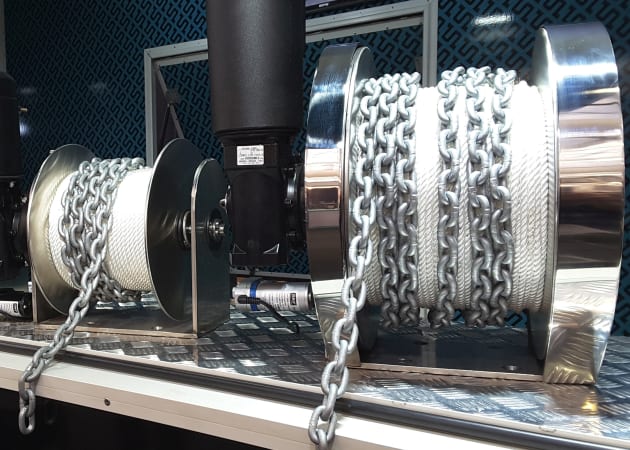 Rival winch manufacturers cry foul over comparison testing video.
Local winch manufacturers have taken to social media to voice their complaints about a video of a comparative test program undertaken on four brands of anchor winch.
The original video was published on the Trailer Boat Australasia Facebook page and was presented by well-known boating journalist John Willis.
In the video, four brands of winch – Savwinch, Stress Free, Lone Star and the Viper Pro from Bell Marine – undergo a series of tests including a 'torture' test which involves raising and lowering a 50kg weight for a number of cycles. The tests were carried out at Melbourne Testing Services, an independent testing facility accredited with the National Association of Testing Authorities (NATA).
During the video, the Lone Star winch is shown to perform better than the other models on test, particularly during the 'torture' test where it is the only winch to complete 100 cycles.
However, what the video does not reveal is that the tests were designed and paid for by Lone Star Marine which supplied its own winches for testing. The rival winches were all bought and shipped from the manufacturer or retailer. The rival manufacturers were not informed that the testing was taking place nor had any input into the test program.
In the wake of the video's release, Bell Marine and Stress Free both issued statements condemning the video and tests as misleading and an inaccurate representation of 'real world' performance.
The video has subsequently been removed from the Trailer Boat Australasia Facebook page but is still accessible through Lone Star Marine social media channels.
Depite the outcry, Malki Ary, managing director at Lone Star Marine Winches, defended the video and the testing procedure, saying that it had been undertaken as a last resort. In a statement, he told Marine Business:
"This test was conducted for the consumers' benefit. Prior to Lone Star Marine deciding to undertake this gamut of testing, several third parties were contacted including the ACCC, Choice magazine, and a variety of boating and fishing publications, all of which declined.
"We would have much preferred 'someone else' to conduct this for a variety of reasons, but quite simply there is no one else willing to do a laboratory test on drum winches. It's that simple. Only John Willis of Trailer Boat Australasia was brave enough to not only publish the results, but witness and report on what he saw. John also picked the LSM GX2 model that was used from our extensive stock. John donated his time for free, and put up with abuse from unhappy competitors for no monetary gain.
"There is no question as to the legitimacy of this testing. All testing was third party and the competitors' stock used was delivered directly from the manufacturer or their retailers to MTS. The question of why no competitors were asked to participate is a redundant one. Quite simply once the question was asked there is no possible way the test would have been done.
"LSM have a standing offer to donate five units to any accredited facility willing to replicate the test or conduct a new one under new criteria of their choosing. Watch the video and take the test for what it is, the first third party side-by-side comparison of drum anchor winches ever conducted."