White Bay 6 joins Clean Marinas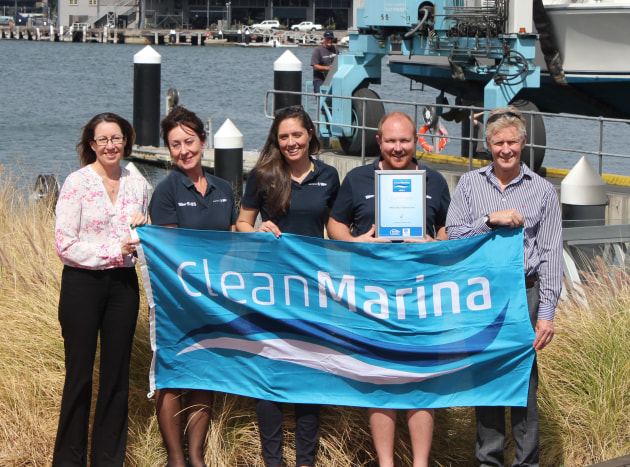 Sydney boat storage facility and boatyard gains environmental accreditation.
The White Bay 6 Marine Park in Sydney is the latest marina facility to gain Clean Marina certification from the Marina Industries Association (MIA) having recently achieved level 3 Clean Marina accreditation. The facility is home to the Sydney Harbour Boat Storage (SHBS) dry stacking service as well as offering anti-fouling, boat maintenance and fuel services.
The Clean Marina guidelines were used as a key development criteria for the boatyard and dry stack located at Balmain on Sydney Harbour.
"It is very rewarding to be working with a team and business who are environmentally conscious and so focused on positive outcomes for our environment, clientele and the local community," said Jeremy Rose, general manager, Sydney Harbour Boat Storage.
"This program, whilst being environmentally rewarding, has enabled us to develop a modern business culture that we see as a benchmark for the wider marine business market. We believe being a part of the Clean Marina program allows us to assist in providing a positive outcome for the industry."
Colin Bransgrove, MIA executive officer, said White Bay 6 Marine Park is to be congratulated on its strong commitment to environmental management.
"The independent auditor commented on the use of highly efficient modern environmental technologies and the plans and procedures to ensure on-site boat owners and contractors are aware of and abide by best environmental practices," he said.
The accreditation comes in the wake of the recent Club Marine Marina of the Year awards held at the Marine17 conference at which White Bay 6 Marine Park won the award for 'Best Boat Yard – Under 20 Boats'. It was also a finalist in the 'Dry Stack Storage Facility' category and its customer service manager, Ludovica 'Elle' Perna, was a finalist in the 'Marina Employee of the Year' award.