Village filling up at Sanctuary Cove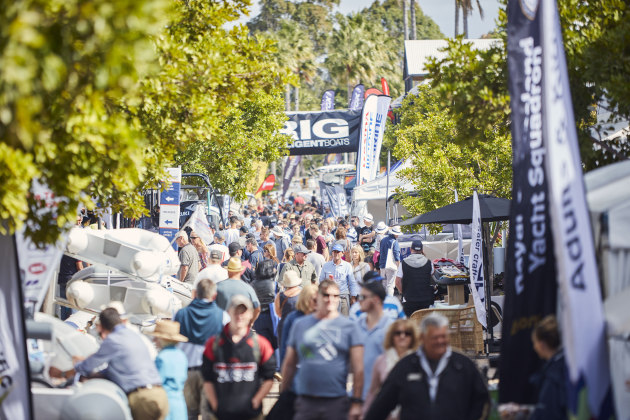 First occupants in the SCIBS 2019 Marine Village secure their spots.
Following the recent launch of the 2019 Sanctuary Cove International Boat Show, set down to run from 23-26 May next year, a number of local businesses have taken the opportunity to book their spots in the Marine Village in what the organisers say will be an expanded PWC, trailerable boat, RIB and fishing section.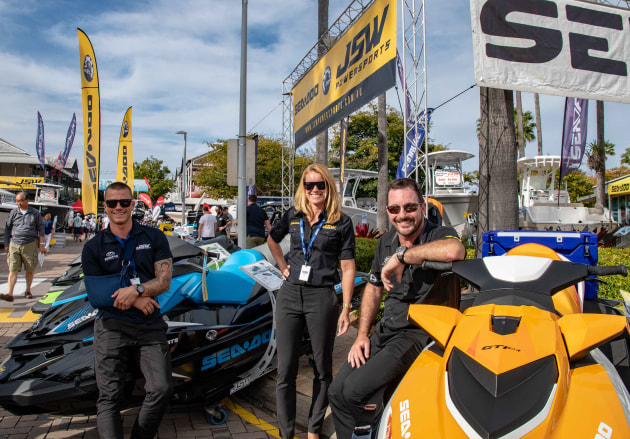 Gold Coast-based JSW Powersports, local dealer for Sea-Doo PWCs, has booked its traditional position on both sides of Masthead Way and plans to present the complete 2019 line-up of Sea-Doo models including the 2019 Fish Pro model as well as the Sea Fox and Malibu boat ranges and a selection of Can-Am ATV offroad vehicles.
JSW Powersports dealer principal Jeff McNiven said the company had exhibited at almost every SCIBS since its inception and considered it a valuable marketing platform.
"SCIBS is a great place to meet our customers, share stories and show them new product and we always come away with excellent sales and leads," he said.
Marine insurer Club Marine has also booked its spot in the Marine Village opposite the Main Pavilion.
"As one of the first boat shows of the year, SCIBS is the ideal place to catch up with our customers and industry colleagues, share their experiences and help them with their interests," said Club Marine CEO Simon McLean.
"We are also looking forward to promoting our Member Rewards Program, which is unique to Club Marine and offers policy holders access to an array of discounts and special offers on all kinds of marine and boating lifestyle goods and services."
Local BRIG dealer, Sirocco Marine has already announced an expanded presence in the Village next year with 30 RIBS spanning the BRIG, Williams and Sirocco brands.
Exhibiting in the Sports, Leisure and Fishing Boats Precinct, Wynnum Marine will present the locally-built Cruise Craft range including the launch of the 2019 centre console F360M model, a 6.35m fully-composite construction trailerable boat. Wynnum Marine director Darren Nichols said SCIBS was the premier boating showcase in the region.
"We attend boat shows all around the country and SCIBS is a great networking show and the ideal place to host our new model launches each year," he said.
Other dealers confirming space at the show include Brisbane Quintrex, part of the Brisbane Yamaha group, and Gold Coast Boating Centre.
In addition to its namesake brand, Brisbane Quintrex will also be showing the fibreglass Baysport range and Yellowfin plate boats.
"SCIBS 2019 is on track to be the biggest ever in terms of trailer boats," said Aaron Goodchild, Brisbane Quintrex dealer principal. "We will have 40 boats in total, ranging from 3.5m to 7m and all with factory-backed specials and unbeatable deals on offer over the four days."
Gold Coast Boating Centre will have an 800m2 space showcasing about 30 boats across the Horizon, Stessco, Formosa by Sea-Rod and Stessel brands, along with Dunbier trailers and Yamaha outboard motors.
Dealer principal David Edwards, who co-owns the business with Scott Mahon, said the group will have all locally-made aluminium boats in their line-up, from 3m tinnies to 7.5m offshore angling vessels.
"All our brands are established and popular, with our customers assured of great after-sales service and support from the vibrant, energetic team at Gold Coast Boating Centre," he said.
"We will have bow rider, centre console and side console boats ranging from entry-level prices about $10,000 up to more than $100,000, with our 2019 models suiting all budgets and boating lifestyles.
"We are also Yamaha's second largest dealer in the country and will be offering special boat show packages."
Other major brands set to exhibit in the trailer boat precinct and Marine Village are long-time exhibitors Northside Marine with Stabicraft, Surtees and Stacer, and Karee Marine, featuring Stessco and Tournament boats.
"We are thrilled with the overwhelming response so far," said SCIBS general manager Johan Hasser.
"Seasoned exhibitors and those who are new to SCIBS are well ahead of schedule this year, all with exciting plans for world and Australian premieres, the launch of new brands into the market and exceptional special offers."