Top Mercury gong goes to the Gong again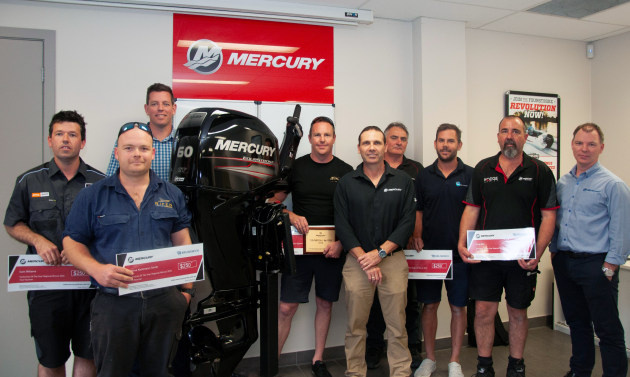 David Voorden from Leisure Coast Marine named as Mercury's top technician.
There must be something in the water down Wollongong way because, for the second time in a row, a technician from the region has won the Mercury Marine Technician of the Year competition. Earlier this year, it was Lieuwe Mellae from Hitech Marine in Wollongong who took home the top prize and, more recently David Voorden from Leisure Coast Marine, also in Wollongong, was named as the manufacturer's top technician, beating the best mechanics from around Australia and New Zealand.
The first prize is a brand-new Mercury 60hp EFI FourStroke outboard engine.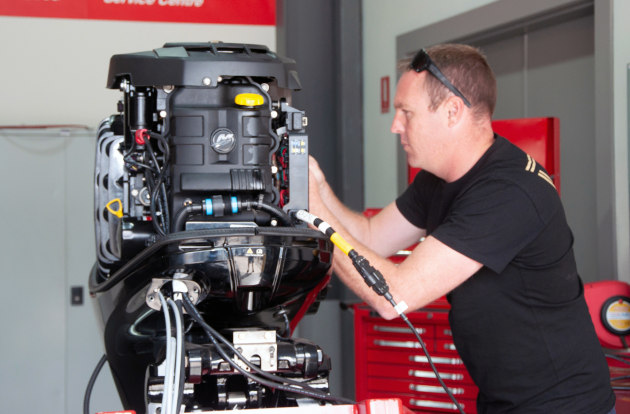 The final of the competition, held at Mercury Marine's HQ in Dandenong South, Melbourne, saw the six finalists competing to diagnose and repair 'faults' in three different EFI engines - 40hp, 115hp and 135hp. In 45 minutes, they had to verify the fault, isolate the failed system and component, repair/replace the faulty component and then test the repair. Competitors were awarded points for their process and speed.
When it was all over, only eight points separated the top three with Voorden topping the competition with 153 points followed by Joshua Kammann-Smith from Rifen Marine in Queensland on 147 points, and Garry Watson from Midway Marine in WA on 145 points
"When they announced third and second place-getters, I thought 'Bugger - I've missed out'," said Voorden. "Then they announced I'd won and it was a real surprise, a shock!
"The calibre of the technicians was outstanding. I was blown away to win just because of the experience and talent of the other guys in the room.
"I would like to thank everyone who's helped with my training, and I'd like to thank Mercury for giving us this opportunity to show our skills and get recognised for what we do."
Other regional winners in the competition were Cam Williams from Stihl shop in New Zealand, Craig Bell from Hodge Marine in South Australia and Andrew Chopping from Sealand Marine in Victoria. Additional high achievement awards were given to New Zealand technicians Ben Castle from Gulfland Marine, Troy Walsh from SportsCraft Marine, and Nigel Johnson from Wanaka Marine.
"All credit to the technicians who put up their hands to put their skills to the test," said Nicholas Webb, senior director of engine products, aftersales and marketing Australia, New Zealand & South Pacific. "Once again the competition has showcased the knowledge and technical skills of the top Mercury technicians, and the knowledge and skills required to provide the very best of support and service to Mercury customers.
"David is a worthy winner of a super competitive event, so congratulations to everyone who took part. You guys are a crucial part of what Mercury's all about."
Back at work already, the new champion hasn't quite decided what to do with his new engine because while he loves spending time on the water, Voorden doesn't own a boat.
"I go out a lot in my father-in-law's boat and my brother-in-law has a boat as well, so maybe one of them will get a nice Christmas present!"