Tommy Norton ready for work on Gippsland Lakes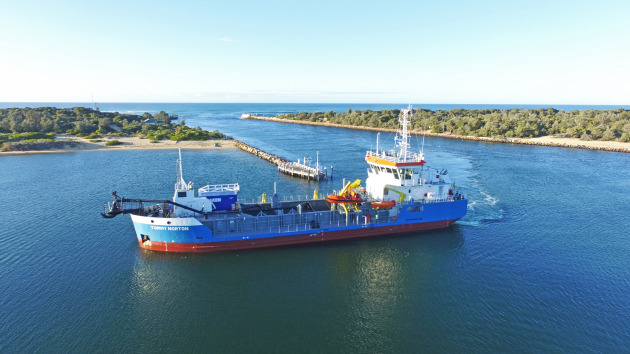 New dredger arrives to help secure access to popular Victorian waterway.
The Chinese-built dredger, Tommy Norton, has been officially handed over to its new owners, Gippsland Ports, and will commence dredging operations later this month.
The dredger arrived in Victoria last month and has been undergoing trials and training of Gippsland Ports staff before being officially handed over to its new owners.
Gippsland Lakes is home to Victoria's largest commercial fishing fleet and services commercial vessels and offshore oil and gas suppliers, as well as being a popular recreational boating location. According to Gippsland Ports, the economic contribution to the region of the recreational boating and commercial fishing industries operating within and through the port exceeds $200m annually.
In order to maintain reliable access, regular dredging of Lakes Entrance has been taking place for more than a century. Tommy Norton replaces the New Zealand-based dredge, Pelican, which has been operated by Dutch company, Van Oord, for the past eight years. The Pelican took over from the April Hamer which operated for 34 years before retiring in 2009.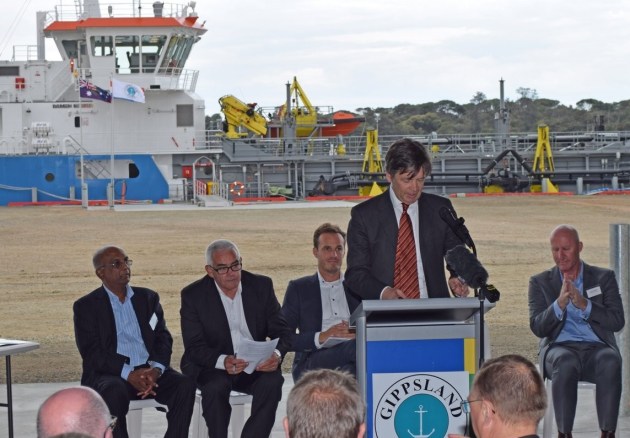 Built at Damen Shipyards Yichang shipyard in China, the 60-metre Tommy Norton is a trailing suction hopper dredge (TSHD) capable of dredging to depths of 15 metres. It has bottom doors to enable self-emptying and can alternate between a bow connection and rainbow expulsion for beach reclamation work. It is the first dredger to be built by Damen Shipyards Group for Australia.
"This project has been a significant undertaking by Gippsland Ports on behalf of the State of Victoria and we are delighted to have delivered an excellent vessel both on time and within budget," said Geoff Hocking, chairman of Gippsland Ports.
"To have been able to achieve this outcome is testimony to the builder, Damen Shipyards Group and Gippsland Ports' project managers, supported by our appointed technical and quality support team. We anticipate Tommy Norton will provide decades of safer and more reliable bar crossing in the same manner as its namesake did in the 1870s prior to the creation of the artificial entrance."
Speaking at the handing over ceremony, Vincent Maes from Damen Shipyards said: "I want to thank a lot of people who made this happen, but especially Mr Nick Murray and Mr Ambrose Rajadurai, both of whom were there from the start, and also our project manager Leo Van Dijck. All of you really made it happen, so congratulations for that.
"I wish you all the best, all the luck and a great journey with the Tommy Norton."