Terrace Boating tops Quintrex dealers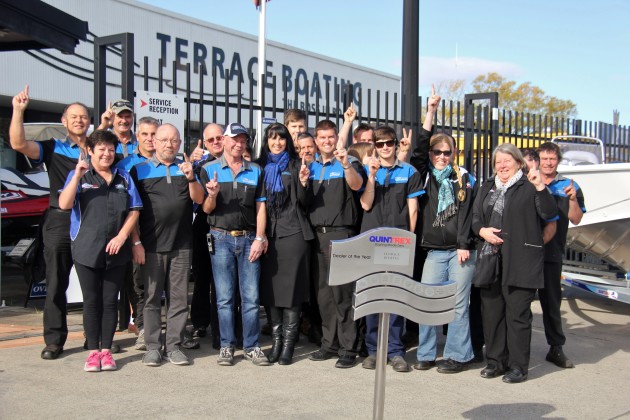 NSW dealership named Dealer of the Year for 2015/16.
Terrace Boating at Heatherbrae near Newcastle, NSW, has been named as the National Dealer of the Year for Quintrex boats in 2015/16. It previously won the top award in 2010 as well as various other sales and service awards.
Quintrex account manager Cameron Wood said Terrace Boating excelled at all ten criteria used to decide the award.
"Their customer service is the best around," he said. "I can guarantee you will walk out of the dealership with a smile on your face and hopefully keys to your new boat in your pocket!
"The dealership is spick and span, with an awesome display of Quinnies on show.
"Their passion for boating extends to the local community through their sponsorship of many local clubs and charities including Realcare, Compassion, Raymond Terrace football and soccer clubs and many more."
Terrace Boating has been a family-owned dealership for over 40 years and is currently run by father and son team, Josh and Peter Padmos.
According to Josh Padmos, the staff at Terrace Boating has over 300 years of combined experience in boating, a factor which helped them win the Quintrex award.
"To put it simply we excel in boats," he said. "No matter if you need a new boat, used boat, service or accessories we have a huge range of stock, great customer service, great marketing and an experienced team that pull it all together.
"We have been dealing with Quintrex for over 20 years and look forward to many more years of selling these great boats to our happy customers.
"We have had a phenomenal year. With great suppliers and a fantastic sales and service team we love helping our customers achieve their boating dreams," he added.