Surf boats making waves at Expo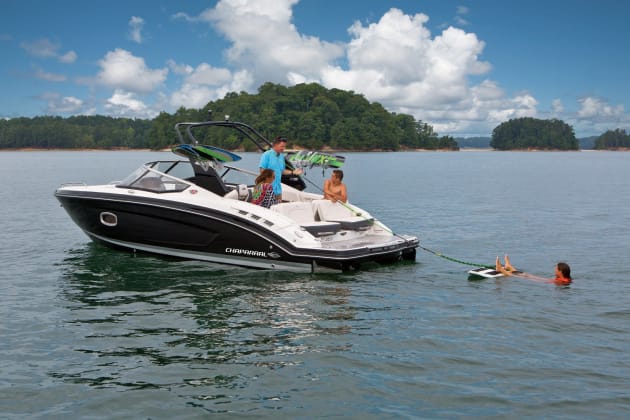 Extra marina space opened up at Expo to accommodate more boats.
The ever-popular surf and wake boat sector will be on show at next month's Gold Coast International Boat Show and Marine Expo with both Chaparral and Tige Boats from the US being displayed by their Queensland dealers.
Australian Marine Centre in Brisbane will be showing the latest range of Chaparral saltwater surf boats incorporating the Malibu's Surf Gate wave-making technology and Volvo forward facing drives. The new releases are the 227 SSX Surf, 257 SSX Surf, 244 Sunseta Surf models.
Australian Marine Centre will also display the Chaparral H2O bowriders and the recently released SunCoast outboard-powered bowriders.
Meanwhile, Whitewater Marine will be displaying the Tige RZR wake boat for the first time in Australia featuring the new Alpha E2 Power Tower and the new TAPS 3 surf wake system.
Among the 15 boats on the Whitewater Marine display there will also be the latest models from the New Zealand-built Buccaneer range – the 565 Classic, 605 EXESS and 685 EXESS Hardtop – also being showcased for the first time in Australia.
Due to demand from exhibitors, the organisers of the Expo have announced that additional marina space is being made available for on-water displays.
"For the first time in our seven years, we will be linking the Gold Coast City Marina's brand new super yacht basin with the Riviera Marina, enabling visitors to be able to walk the full waterfront of our industry-backed show," said Emma Brown, event & marketing manager.
"This not only creates additional berths for a massive display of brand-new yachts and premium brokerage vessels, it also creates even more berths for instant sea trials and an amazing spectacle for our boat show visitors," she said.
Last week, organisers announced that exhibitor space sold or reserved at the Expo had reached 94% of capacity. The Gold Coast International Boat Show and Marine Expo is due to be held from 17-19 March.