Superyacht crews take action on plastic pollution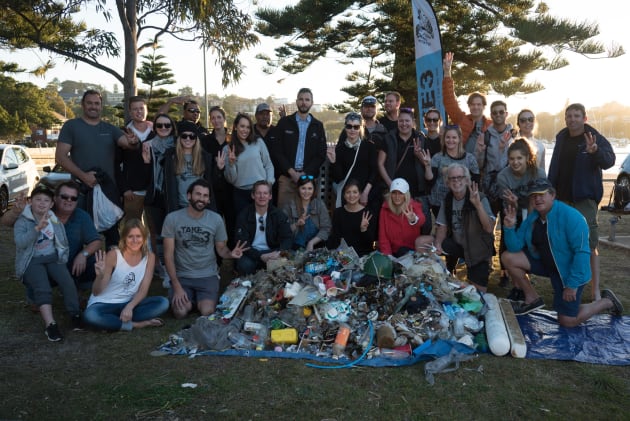 Volunteers help to clear Sydney Harbour of plastic rubbish.
A group of superyacht crew and industry professionals have taken to Sydney Harbour's beaches in order to tackle the growing problem of plastic pollution in the world's oceans.
The issue of plastic pollution in the ocean was highlighted this week when researchers announced the discovery of a huge plastic garbage dump in the South Pacific covering 2.6 million square kilometres or 1.5 times the size of Texas. It is estimated that about 8 million tonnes of plastic goes into the sea each year, with devastating effects on marine life.
To highlight this issue and do something about it, Sydney-based charter and yacht services company, Ocean Alliance, recently teamed up with environmental advocacy group, Take 3, to organise a beach clean-up day in Sydney.
Volunteers from superyacht crew represented by Ocean Alliance and other industry professionals helped to collect over 20,000 pieces of plastic and 200 recyclable bottles and cans from 300 metres of harbour-front over three different sites in Sydney.
"It is fundamentally important to the Ocean Alliance team, as well as the crew of the yachts we represent, we make personal endeavours to tackle the ocean's plastic epidemic," said Joachim Howard, Ocean Alliance managing director. "As humans, the ocean gives us so much and we have a duty of care to the earth and each other.
"Furthermore, it is the international year of Sustainable Tourism so we cannot, in good conscience, operate a company and yachts which promote marine tourism and not ensure this resource is cared for."
Laurie Foulon, charter manager for Ocean Alliance, said the company had been impressed by the activities of the superyacht industry in other parts of the world in tackling the problem of plastic pollution.
"We believe that the yachting industry in Australia has the opportunity to develop strategies towards plastic-free superyachts, and are passionate about the crew on our superyachts to undertake initiatives on board."
As part of its advocacy and educational activities, Take 3 aims to encourage the public to take three pieces of rubbish and place them in a bin whenever they are at the beach, on a waterway or any outdoor space.
"We were really excited when the Ocean Alliance team approached us to support our mission to reduce global plastic pollution through education and participation," said Tim Sherwood, Take 3 CEO and co-founder. "This is a new channel for us and we think a great one as the yachts and their crew are so intertwined with the health of our oceans and they can take the message global."
Ocean Alliance plans to hold another clean-up event in the summer.