Stella Marine launches new website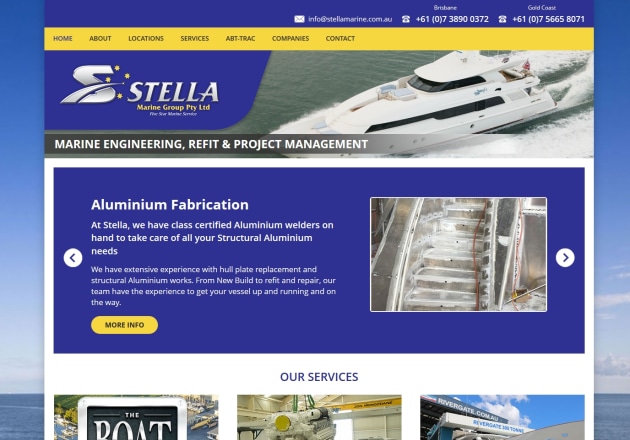 Marine engineering group offers in-depth look at services available.
Australian marine supplier Stella Marine has launched a new-look website for local and international customers, outlining the wide range of services offered by the company.
Based in South-east Queensland and with workshop facilities in Brisbane at Rivergate Marina and on the Gold Coast at The Boatworks, Stella Marine offers a range of engineering, procurement, installation and construction solutions for private and commercial marine vessels. Services range from stabiliser servicing to pipe work, stainless steel fabrication to structural aluminium and steel, as well as toilet and watermaker installations and repairs.
The company is also the Australian service agent for a range of well-known marine equipment brands including Stella Watermakers, Aqua-Air marine air conditioning, ABT TRAC stabilisers and thrusters, Craftsman Marine bow and stern thrusters, TRAC de-scalers and cleaners, QuicKutter rope cutters, Maritex shaft and rudder bearings, Kohler marine generators, and winches from Maxwell and Muir.
Stella Systems is the distribution arm of the Stella Marine Group offering a portfolio of well-known marine equipment products including bow thrusters, wind generators, toilets, air conditioning units, windscreen wipers, gyro stabilisers, de-scalers and teak cleaners.
"The new site offers our customers an in depth look at the services we are able to offer to ensure all of our customers have a full awareness of the variety of work we are able to undertake for them," said Gary Cooper, Stella Marine CEO.