Steber apprentices growing on the job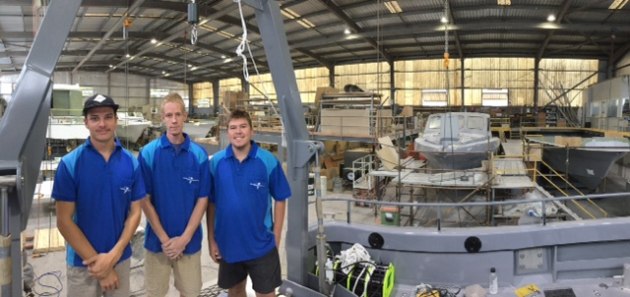 New projects give local Taree apprentices the chance to gain boat-building skills.
A raft of new projects has seen Taree, NSW-based boat builder Steber International continue to grow its workforce including the addition of several new apprentices.
Over the past two years, the company has employed eight apprentices and a similar number of skilled workers in response to major contracts for new boat builds and ongoing refits.
"We currently have 13 major projects underway, ranging from 38ft Navy support vessels, a commercial charter boat, right up to a 61ft fisheries research vessel," said Alan Steber, Steber International general manager.
"It's particularly pleasing to be able to offer the youth of our community an opportunity to gain qualifications as shipwrights that could set them up for life.
"To date, Steber International have engaged over 150 shipwright apprentices, many of whom have gone on to operate their own businesses, some in the marine industry, some in buses and caravans, some in home building and even some employed overseas.
"The current apprentices are all leading towards being top tradesmen," he added, "as well as displaying growing confidence in communication and high self-esteem."
Apprentices Chris Ellis (first year), Ben Shannon (second year) and Beau Paff (third year) have all benefited from the current demand for Steber's services.
"I like working with my hands. It's great reading plans and bringing them to life," said Paff.
Ben Shannon has been working on fit-out and upholstery and is now cross-training on engineering.
"I want to learn everything but would then probably like to specialise in fit-out, finishing off the boats," he said.
First-year apprentice Chris Ellis said he was enjoying the experience of working in the marine industry.
"I'm loving it," he said. "There's a great variety of work - engineering, electrical, upholstery, carpentry - all in the one job."