Seven Marine to debut at SIBS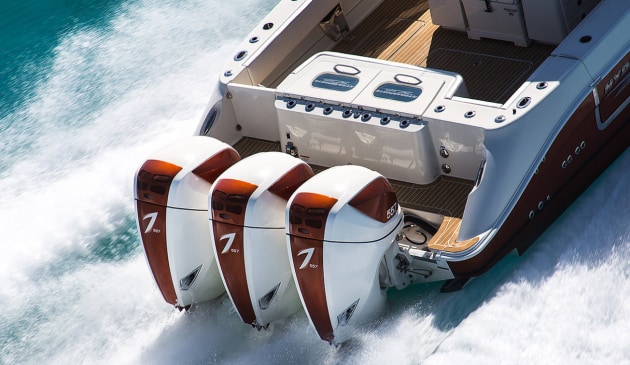 First chance to view high-powered outboard engines in Australia.
The upcoming Sydney International Boat Show will be the first opportunity for the Australian public to get close up and personal with some of the world's most powerful outboard engines.
The US engine manufacturer, Seven Marine, in conjunction with its Australian sales and service representative, Luxury Marine Performance, will be displaying two of the massive 627hp outboards at this year's show.
"This is going to be fantastic opportunity for the Australian public and local boat builders to see a Seven Marine outboard in the flesh for the first time," said Maik van Zoggel, director of marketing and international sales, Seven Marine. "In Australia, as there is in the USA and Europe, there are boats which no longer need to be powered by two, three or four outboards, as Seven Marine provides the boat owner with the option to move back to single or twin outboard applications.''
Following the introduction of its first 557hp model in 2010, Seven Marine has continued to develop its technology and currently has three product offerings in its line-up, a 527hp, 577hp and a 627hp outboard. The engines are built on a 6.2 litre supercharged V8 platform with closed cooling, wet-disc clutch transmission and fuel injection. All three models are offered with Seven's new twin-prop CR (contra-rotating) gearcase option.
"Never before has an outboard owner been able to customise their outboard as you can with a Seven," said James Jackman, Luxury Marine Performance. "Owners have the ability to customise the outboard's cowling colour and graphics configuration, add LED lighting into the cowling in the 577hp and 627hp models, as well as configure the outboards with contra-rotating props, joystick and dual station controls."
Seven Marine also offers the option of a 35–39 inch leg for owners of deep-vee hull boats.
Seven Marine outboards will be on stand #305 at the Sydney International Boat Show.