Sealegs setting records in Malaysia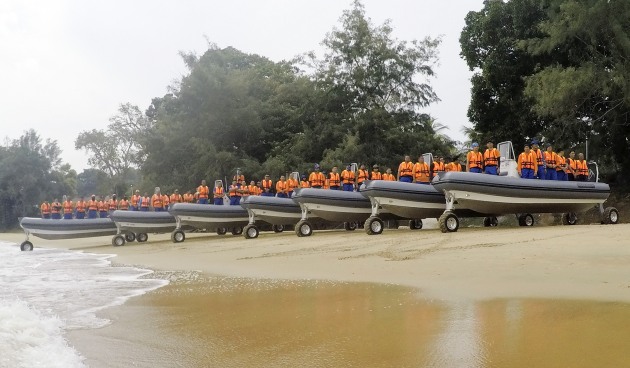 Fleet of 27 amphibious vessels sets record for longest journey along Malaysian coast.
A fleet of 27 Sealegs amphibious vessels in Malaysia recently set a record for the largest number of of government-owned Sealegs to assemble at the same time as well as for undertaking the longest trip by a fleet of amphibious craft.
The fleet, comprising vessels from the Malaysian Civil Defense Force (APM) and Fire Department (BOMBA), took off from Melaka State and travelled more than 700km north along the east coast of Malaysia to Langkawi Island, making pre-planned stops along the way to demonstrate the Sealegs amphibious technology.
The Langkawi Amphibious Craft Expedition, as it was called, was organised and led by APM's commissioner Datuk Roslan Wahab and coincided with APM's 67th operational anniversary and the 2019 Langkawi International Maritime and Aerospace Exhibition (LIMA'19). The expedition's purpose was to demonstrate the capability and efficiency of Sealegs amphibious craft in responding to coastal emergency situations in Malaysia.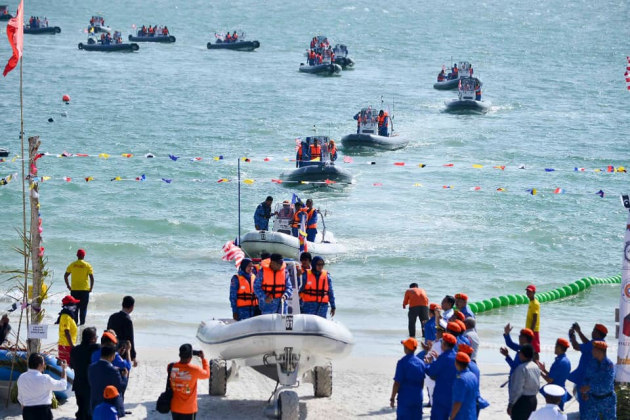 "Through this program we successfully tested the operational capabilities of the Sealegs fleet, which is geared towards accelerating water-based rescue operations, and APM's level of preparedness in the face of disasters," said Commissioner Wahab.
Sealegs co-founder and CEO, David McKee Wright, was in Langkawi to meet the arriving fleet.
"The significant gathering of Sealegs here reminds me of the Onetangi Beach Races held each year in New Zealand with record numbers of recreational Sealegs in attendance," he said. "The similarities to that event are as significant as the differences - which aptly demonstrate the wide range of uses for Sealegs amphibious technology.
"The completion of this journey is further proof that Sealegs amphibious craft are perfectly suited to responding to emergency situations in Malaysia and abroad, and we look forward to working with APM in the future to ensure they have all they need to maintain and grow this high-capability fleet."