Seakeeper rolls with new owners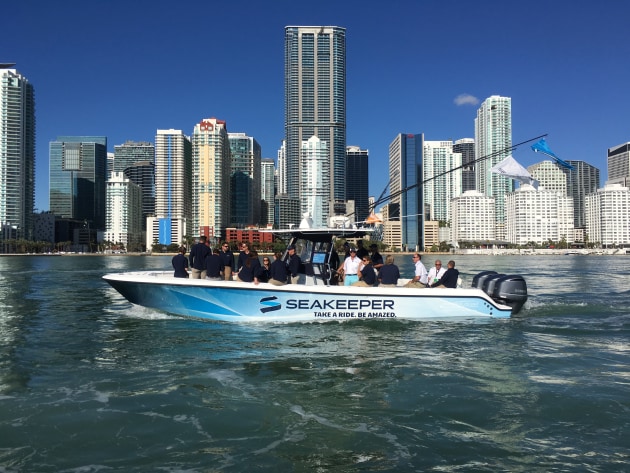 US investors take majority stake in boat stabilisation company.
US marine stabilisation company, Seakeeper, has new owners following the decision by Chicago-based Madison Industries to take a majority stake in the company.
Madison Industries is a privately-owned company that invests in a range of manufacturing companies in areas such as filtration, medical equipment and industrial components.
Seakeeper's management team will continue to run the company day-to-day with current chief operating officer Andrew Semprevivo becoming president and CEO alongside Bob Moser, vice president of manufacturing and engineering, and Rebecca Smitha, vice president of finance. Seakeeper co-founders, Shep McKenney and John Adams, will remain as minority owners on the board of directors with McKenney serving as chairman.
"Seakeeper will continue to be an organisation that employees want to work for, vendors want to sell to and customers want to buy from," said Semprevivo. "Our vision, leadership and incredible worldwide team will remain unchanged. Seakeeper is committed to engineering, producing, marketing and selling industry-changing products of the highest performance and quality, backed by the absolute best customer service."
"We're very proud of Seakeeper's past and are even more excited to plan for its future," said Shep McKenney. "Thank you to our loyal staff, customers and vendors who have believed in our technology and our vision. It's been 10 years since we shipped our first gyro, and we are celebrating by ensuring Seakeeper is poised for future growth and industry leadership."
The company recently launched its Seakeeper 2 model at the Miami International Boat show, a smaller version of its gyro stabiliser designed for boats from 27 to 32 feet.
"We have a relentless drive to of bringing stabilisation to the masses," said Semprevivo at the launch. "The Seakeeper 2 is the first of our products to reach down into the 20-foot boat market, and we will continue to expand into new areas to ultimately change the way the world boats."
Distributed in Australia by Twin Disc Pacific, the Seakeeper 2 model will be launched locally at the Sanctuary Cove International Boat Show in May.
"The Seakeeper 2 is 25% lighter and 20% smaller than the Seakeeper 3," said Glenn Frettingham, Twin Disc Pacific managing director. "It eliminates up to 95% of boat roll and will be popular with recreational outboard craft looking for stability, safety and a pleasant day on the water for all, no matter what the conditions.
"Judging from the response in Miami, the Seakeeper 2 will prove very popular in Australia where this segment represents the largest community of boat owners."